Self-sufficiency For Dummies Collection - Growing Your Own Fruit & Veg For Dummies/Keeping Chickens For Dummies UK Edition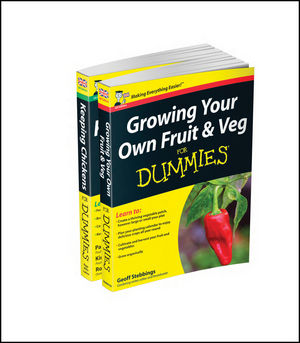 Self-sufficiency For Dummies Collection - Growing Your Own Fruit & Veg For Dummies/Keeping Chickens For Dummies UK Edition
ISBN: 978-1-119-08633-8
Feb 2015
600 pages
Product not available for purchase
Description
Become self-sufficient at home with this great two book collection.
Self-sufficiency For Dummies Collection includes Growing Your Own Fruit & Veg For Dummies and Keeping Chickens For Dummies UK Edition.
From planning a planting calendar to feeding and caring for new plants, Growing Your Own Fruit & Veg For Dummies shows readers how to grow the tastiest fruit and vegetables all year round
Offering expert advice to the reader straight from the River Cottage 'Chicken Whisperer', so whether you're looking to raise chickens for eggs, meat, or just the entertainment value and fun Keeping Chickens For Dummies is the perfect place to start
Fresh eggs, vegetables and fruit – straight from your garden. Get started with these great two books today!