Selling America Short: The SEC and Market Contrarians in the Age of Absurdity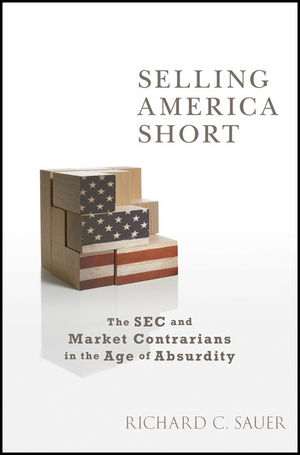 Selling America Short: The SEC and Market Contrarians in the Age of Absurdity
ISBN: 978-0-470-62750-1
Mar 2010
336 pages
Description
An industry insider reveals the inner workings of our financial system and the agencies who attempt to control it
During his dozen years as an SEC attorney, author Richard Sauer opened and supervised some of its most notable financial cases-investigations that took him to a dozen countries and returned hundreds of millions of dollars to American investors. While a partner at a major law firm and, later, a hedge fund manager, he saw firsthand the follies and failures of our system. Now, in Selling America Short, he shares his extraordinary experiences with you.
Selling America Short is a gripping chronicle of crooked companies, financial philanderers and hapless enforcers told through the eyes of personal experience. Page by page, it shows the damage wrought by the deep biases and lack of worldly experience common among those who hold the reins of our capital markets.
Sheds light on the inner workings of our financial system
Takes you on a fascinating journey of a rogue's gallery of crooked executives, professional fraud enablers, and squirrelly technocrats
Offers a firsthand account of the many ways contrarian views of public companies are suppressed and punished, depriving the market of critical information
With the capital markets in turmoil, people are fascinated with what is happening on Wall Street. This book provides a unique look at the forces and events that led directly to financial tragedy and continue to wreak havoc.
Prologue.
Chapter 1 Rude Awakenings.
Chapter 2 The SEC Steps Out.
Chapter 3 Short People.
Chapter 4 Belgian Waffles.
Chapter 5 AremisSoft and the Deemster from Hell.
Chapter 6 Taking Out the Eurotrash.
Chapter 7 In the Shadow of Enron.
Chapter 8 The Easter Bunny Cometh.
Chapter 9 Mired in Muck.
Chapter 10 Our Tax Dollars at Work.
Chapter 11 Warming the Bench.
Chapter 12 The Overstock Flame Wars.
Chapter 13 The Bird in the Bush.
Chapter 14 The Collapse of the American Financial Sector in One Easy Lesson.
Chapter 15 Ashes, Ashes, All Fall Down.
Epilogue Picking up the Pieces.
About the Author.
Index.
"Readers with a taste for skulduggery won't be disappointed. Sauer's war stories slither through letterbox companies, a suspicious Bulgarian government contract and documents dumped onto a roadside garbage heap."
—
James Pressley
, Bloomberg News, May 2010
"Sauer's informed (he was an SEC attorney before he joined a hedge fund) and detailed set of stories will make you sick, but they'll also make you appreciate what a no-win position the Feds occupy in America's—and the world's—byzantine financial regulatory schema, not to mention how the bad behavior of Goldman Sachs took down a hedge fund on the cusp of making a bundle for its investors thanks to prescient bets on a financial crisis. … Get a hold of it and start reading."
— Jeff Matthews, jeffmatthewsisnotmakingthisup.blogspot.com, May 2010
"A must read for everyone who wants to know something about the SEC, short sellers and fraud."
—Seeking Alpha, October 2010