Selling For Dummies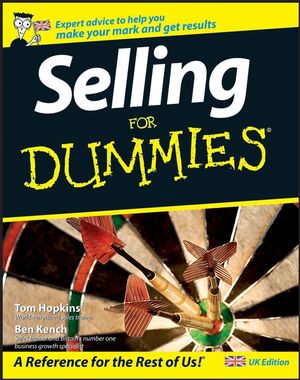 Selling For Dummies
ISBN: 978-1-119-99834-1
Feb 2011
416 pages
Description
Being a successful salesperson isn't only useful in a traditional sales role. Whether you want to sell a new product to a business, an idea to an investor, or yourself in an interview, this book provides you with all the tips and techniques you need to stand out from the crowd. This straight-talking guide helps you develop the sales, communication, and negotiating skills you need to deliver successful presentations, win and retain customers, maintain your confidence, and get the results you want.
Introduction.
Part I: The Art of Selling.
Chapter 1: You Don't Need a Uniform or a Fancy Suit.
Chapter 2: The Seven-Step Selling Cycle.
Chapter 3: Enjoying Selling as a Hobby.
Part II: Preparation Is the Key.
Chapter 4: Knowing Your Market.
Chapter 5: Knowing What You Sell.
Chapter 6: Using Technology to Your Advantage.
Part III: The Anatomy of a Sale.
Chapter 7: Finding the People Who Want What You Sell.
Chapter 8: Making Appointments the Easy Way.
Chapter 9: Finding the Best Way to Proceed with the Client.
Chapter 10: The Pitch: Presenting Yourself and Your Offering Properly.
Chapter 11: Addressing Customer Concerns.
Chapter 12: Easing the Sale to a Close.
Chapter 13: Referrals: The Best Way to Grow Your Business.
Part IV: Growing Your Business.
Chapter 14: Following Up and Keeping in Touch.
Chapter 15: Using the Internet to Make More Sales.
Chapter 16: Managing Your Time for Optimum Effect.
Part V: You Can't Win Them All.
Chapter 17: Staying Positive.
Chapter 18: Setting Goals to Stay Focused.
Part VI: The Part of Tens.
Chapter 19: The Ten Biggest Sales Mistakes.
Chapter 20: Ten Ways to Improve Your Selling.
Chapter 21: Ten Ways to Become a Master Practitioner.
Chapter 22: Ten Characteristics of Winners.
Chapter 23: Top Ten Tips for Sales Success.
Chapter 24: Ten of the Best Web Sites for Sales Professionals.
Index.