Selling Sucks: How to Stop Selling and Start Getting Prospects to Buy!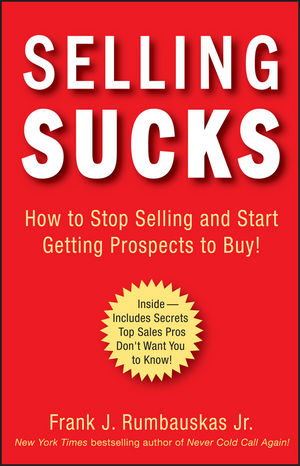 Selling Sucks: How to Stop Selling and Start Getting Prospects to Buy!
ISBN: 978-0-470-14907-2 August 2007 176 Pages
Description
Praise for Selling Sucks

"Whew! A terrific new book that blows the lid off the old-school methods of selling-which don't work anymore-and shows you how to make sales almost like magic! I love this book!"
—Joe Vitale, author of The Attractor Factor and many other books

"I love to buy, so I'm going to give every salesperson I know a copy of this book. Maybe they'll finally stop the old-school, hard-sell shtick that compels me (and everyone else) not to buy."
—Michael Port, bestselling author of Book Yourself Solid

"Selling sucks, but making sales doesn't. Read Frank's book to learn the crucial difference that will almost certainly mean success or failure for your business in the new era of commerce."
—Mark Joyner, bestselling author of Simpleologywww.simpleology.com

"Ready to join the ranks of the top sales pros? Buy Selling Sucks. Apply its lessons. Then watch your results go through the roof."
—Randy Pennington, author of Results Rule!

"Rumbauskas has the ability to overcome the obvious and allow his readers to look at sales in a new dimension. While many people focus on sales tricks, Rumbauskas shows, in great detail, how to get your prospects to buy because they come to you informed and trustful of you before you even say 'hello.' He's one of those guys I listen to every time he speaks. He speaks out of tested methods and not opinion. Prior to marketing online, I spent fourteen years running some of the largest automobile dealerships in the USA. This is one book I would make recommended reading for every person who wants to become an elite sales professional. Selling Sucks is a money-making winner."
—Mike Filsaime, MikeFLive.com

"Selling Sucks is a must-read for any entrepreneur who wants to run a high-profit, high-integrity business. Rumbauskas's advice is inspiring, clear, and more importantly, easy to implement. It's honestly one of the best how-to self-marketing books on the market. Get this book now if you're serious about exploding your sales and making more money."
—Marie Forleo, author and Fox News Online Life Coach www.thegoodlife-inc.com

"Rumbauskas has written an indispensable guide to moving from an average salesperson to a top sales pro. This is a must-read for anyone serious about their sales career."
—Paul McCord, author of Creating a Million-Dollar-a-Year Sales Income
Acknowledgments.
Preface.
1. It's True—Selling Sucks!
2. Top Sales Pros Are Master Persuaders.
3. Top Sales Pros Don't Cold Call.
4. Top Sales Pros Get And Keep The Power.
5. Top Sales Pros Don't Go To Networking Clubs.
6. Top Sales Pros Get Hot Referrals.
7. Top Sales Pros Are Competent Public Speakers.
8. Top Sales Pros Think Like Business Owners.
9. Top Sales Pros Are Recognized Experts.
10. Top Sales Pros Get And Use Free PR.
11. Top Sales Pros Are Internet-Savvy.
12. Top Sales Pros Give First and Get Later.
13. Top Sales Pros Build Communities Of Prospects.
14. Top Sales Pros Automate.
15. Top Sales Pros Build and Use Systems.
16. Top Sales Pros Don't Use Closes.
17. Top Sales Pros' Customers Are an Exclusive Club.
18. Now It's Your Turn to Become a Top Sales Pro!
About the Author.
Index.