Selling Your IT Business: Valuation, Finding the Right Buyer, and Negotiating the Deal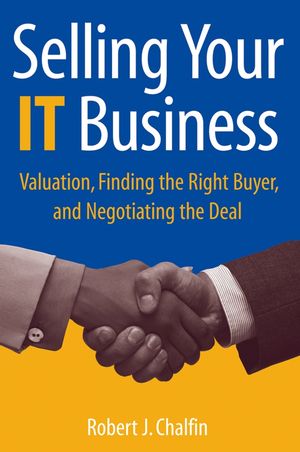 Selling Your IT Business: Valuation, Finding the Right Buyer, and Negotiating the Deal
ISBN: 978-1-119-20140-3
Aug 2015
239 pages
Description
""For close to twenty years I have observed Mr. Chalfin helping owners, business advisors, and students get a grip on the slippery issues of selling a business. This book is a valuable distillation of his expertise. ""
--Ian MacMillan, Dhirubhai Ambani Professor of Innovation and Entrepreneurship The Wharton School, University of Pennsylvania

""Bob provided us with valuable outside perspective while we prepared our business for sale and during the sale process. His book is an excellent guideline for business owners thinking about selling their company.""
--Steve Gerlicher, Entrepreneur

""Bob Chalfin's experience and intellect make this book essential reading for IT business owners. Provides thoughtful analysis and practical advice invaluable to anybody who is even considering selling their business.""
--Louis W. Fryman, Esq. Chairman Emeritus Fox Rothschild LLP

""Bob Chalfin brings unparalleled experience to developing and executing these transactions. His insights are tempered by years of formulating these deals and then describing the methods to hundreds of students at The Wharton School.""
--Stephen M. Sammut Senior Fellow, Wharton Entrepreneurial Programs Managing Director, Burrill International

""This book covers all the bases for someone selling an IT (or really any) business. The observations on buyer motivations are particularly insightful.""
--Mark Goodwin Executive Vice President and Chief Operating Officer Pioneer Investments
Acknowledgments.
Preface.
Chapter 1: What Buyers Are Looking For.
Chapter 2: Why Sell?.
Chapter 3: Types of Buyers.
Chapter 4: The Selling Memorandum.
Chapter 5: Attracting and Retaining Key People.
Chapter 6: Financial Metrics.
Chapter 7: Your Board.
Chapter 8: Marketing Your Business for Sale.
Chapter 9: Valuing Your Business: An Introduction.
Chapter 10: Valuation: Book Value of the Stock and Financial Condition of the Business.
Chapter 11: The Company's Earnings Capacity: Profit and Loss Statement; Dividend Paying Capacity, The Size of the Block of Stock to Be Valued, The Market Price of Similar Stocks.
Chapter 12: Methods of Determining a Business's Value.
Chapter 13: Confidentiality: An Introduction.
Chapter 14: Confidentiality: Limiting Data Dissemination and Preparing Confidentiality Agreements.
Chapter 15: Letter of Intent.
Chapter 16: Due Diligence.
Chapter 17" Forms of Acquisition, Contract of Sale, Utilization of Attorneys and Certified Public Accountants.
Chapter 18: After the Sale.
Appendix Online Resources.
Index.
""His advice is practical and sound…"" (Harvard Business School, 4/10/06)