Selling the Sea: An Inside Look at the Cruise Industry, 2nd Edition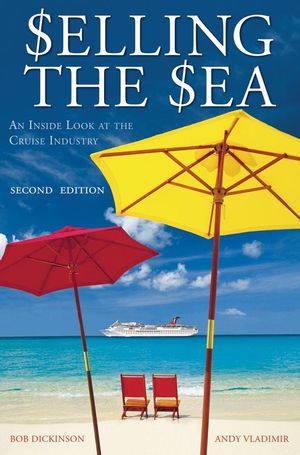 Selling the Sea: An Inside Look at the Cruise Industry, 2nd Edition
ISBN: 978-0-470-10681-5
Jun 2007
352 pages
Product not available for purchase
Description
An insider's view of how the cruising business operates
Selling the Sea offers a complete picture of the cruise line industry along with step-by-step coverage of how to effectively market the cruising experience. This updated Second Edition features new coverage of how technology has impacted the industry, new niche markets in cruising, and expanded material on shipbuilding and design. It also includes insightful interviews with today's captains, social directors, food and beverage managers, and cruise line executives who have hands-on experience at the day-to-day workings of a cruise ship.
Bob Dickinson (Miami, FL) is President and CEO of Carnival Cruise Lines and a member of the Board of Directors of the parent company Carnival Corporation. Andy Vladimir (Coconut Grove, FL) is a well-known business and travel writer, a member of the Editorial Board of the FIU Hospitality Review, and contributing editor of Quest magazine.
Preface.
Acknowledgments.
Chapter 1 Casting Off: The Evolution from Steamship Transportation to Cruising as a Vacation.
Chapter 2 Coming About: The Foundation of the Modern Cruise Industry.
Chapter 3 Life on the Ocean Wave: Living and Working Aboard Modern Cruise Ships.
Chapter 4 Home on the Rolling Deep: Case Studies in Backstage Management.
Chapter 5 Getting Underway: The Public Discovers Cruising Vacations.
Chapter 6 Your Cruise Line GPS: Positioning and Differentiation of Cruise Lines.
Chapter 7 Now Hear This: Marketing Communications—A View from the Bridge.
Chapter 8 Pieces of Eight: Making Money on the High Seas.
Chapter 9 Booking Passage: A Fresh Look at Today's Travel Agent.
Chapter 10 Bob & Andy's Vacation Store: Selling the Sea—The Way We'd Do It.
Appendix CLIA Member Cruise Lines.
Index.
Expanded technology coverage
Updated interviews with cruise line executives, captains, hotel managers, social directors, and food and beverage managers
New coverage of niche markets such as luxury spas and persons with disabilities
Updated coverage of ship and building design
The only book that covers the business of the cruise industry
Provides an insider's view on how the cruising business operates and how it is evolving
Describes management, marketing, and sales techniques that have led to cruising's growth
Provides real-world anecdotes from the men and women who work in the industry