Selling to the Government: What It Takes to Compete and Win in the World's Largest Market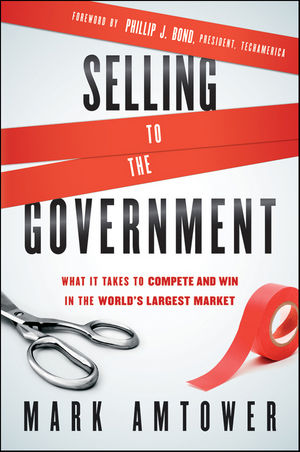 Selling to the Government: What It Takes to Compete and Win in the World's Largest Market
ISBN: 978-0-470-93386-2 November 2010 256 Pages
Description
Learn the crucial ins and outs of the world's largest market

The U.S government market represents the largest single market—anywhere. Government contract tracking firm Onvia estimates that government business—federal, state, local, and education—represents better than 40 percent of the nation's GDP. While anyone can play in this market, only those with the right preparation can win.

Selling to the Government offers real-world advice for successful entry into the biggest market anywhere. Get proven approaches, strategies, tactics, and tools to make your business stand out, build relationships, understand procedures, and win high-stakes contracts.

    • Every year thousands of companies enter the massive U.S. Government (BtoG) marketplace, and by the end of the first year, most are gone and less than 10 percent make it to year two
    • Author has advised hundreds of companies, including Apple, Dell, CDW, Northrop Grumman, General Dynamics, IT, GTSI, and many small firms, on all aspects of marketing and selling to the government

From the go/no-go decision, through company infrastructure requirements, marketing, sales, business development, and more, this book offers the best advice from the most recognized authority in the market.

Foreword: (
Phil Bond
)
.
Preface.
Acknowledgments.
Chapter 1. What It Takes to Play: Tips and Caveats for Chief Executive Officers, Boards, and Others Looking for Shortcuts.
Chapter 2. How the Government Buys.
Chapter 3. Determining Where You Fit: Prime Contractor, Subcontractor, GSA Schedule, Open Market, or All of the Above.
Chapter 4. Infrastructure Issues: What Your Company Needs to Succeed.
Chapter 5. Aligning Marketing, Sales, and Business Development.
Chapter 6. The Power of Relationships.
Chapter 7. The Myth of the Level Playing Field: How Small Businesses Can Play.
Chapter 8. Differentiation Is the Key.
Chapter 9. Execution.
Chapter 10. Building Momentum.
Chapter 11. The Missing Link: Web 2.0 Tools.
Chapter 12. Final Thoughts on Staying on Top of the Game and Becoming a Government Market Master.
Appendix 1. Glossary of Common Government Terms.
Appendix 2. Resources.
Appendix 3. Advice from Industry Experts.
About the Author.
Index.