Semiconducting Polymers: Chemistry, Physics and Engineering, 2nd Edition, Two-Volume Set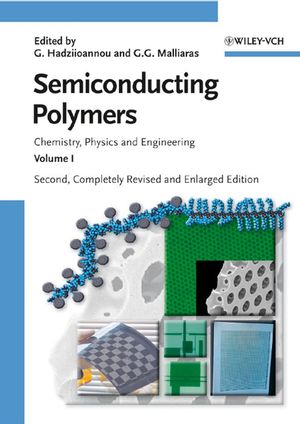 Semiconducting Polymers: Chemistry, Physics and Engineering, 2nd Edition, Two-Volume Set
ISBN: 978-3-527-31271-9 December 2006 768 Pages
Description
The field of semiconducting polymers has attracted many researchers from a diversity of disciplines. Printed circuitry, flexible electronics and displays are already migrating from laboratory successes to commercial applications, but even now fundamental knowledge is deficient concerning some of the basic phenomena that so markedly influence a device's usefulness and competitiveness. This two-volume handbook describes the various approaches to doped and undoped semiconducting polymers taken with the aim to provide vital understanding of how to control the properties of these fascinating organic materials. Prominent researchers from the fields of synthetic chemistry, physical chemistry, engineering, computational chemistry, theoretical physics, and applied physics cover all aspects from compounds to devices.
Since the first edition was published in 2000, significant findings and successes have been achieved in the field, and especially handheld electronic gadgets have become billion-dollar markets that promise a fertile application ground for flexible, lighter and disposable alternatives to classic silicon circuitry. The second edition brings readers up-to-date on cutting edge research in this field.
Buy Both and Save 25%!
Original Price:$1,629.00
Purchased together:$1,221.75
save $407.25
Cannot be combined with any other offers.
Foreword V
Preface VII
List of Contributors XXI
VOLUME 1 Synthetic Methods
1 Synthetic Methods for Semiconducting Polymers 1
Alberto Bolognesi and Maria Cecilia Pasini
1.1 Introduction and Overview 1
1.2 Synthetic Pathways for PA 3
1.2.1 Classical Synthesis for PA 3
1.2.2 The Precursor Route 4
1.2.3 The Grafting Approach 5
1.3 Conjugated Polymers by Step-Growth Polymerizations 6
1.3.1 Poly(3-Alkylthiophenes) 7
1.3.2 Polyparaphenylenes 13
1.3.3 Polyfluorenes 18
1.3.4 Copolymers with Phenylenes and Other Aromatics 21
1.3.5 The PPV Family 25
1.3.6 Poly(phenyleneethynylenes) 31
1.3.7 Copolymers for Triplet Emitters 32
1.3.8 Polyazines and Polyazomethines 33
1.4 Block Copolymers 35
1.4.1 Anionic Polymerization Processes 36
1.4.2 BCs from Tetramethylpiperidinoxy-mediated Polymerization 37
1.4.3 BCs from Atom Transfer Radical Polymerization 41
1.4.4 BCs from Polyfluorenes 42
1.4.5 p–n Diblock Polymers 46
1.4.6 Conjugated–Conjugated BCs 46
1.4.7 The Oligomeric Approach 50
1.5 Towards Autoorganized Devices 51
References 62
2 Processable Semiconducting Polymers Containing Oligoconjugated Blocks 69
Joannis K. Kallitsis, Panagiotis K. Tsolakis, and Aikaterini K. Andreopoulou
2.1 Introduction 69
2.2 Rod–Coil Block Copolymers 70
2.2.1 Poly(p-Phenylene)-Type Rod–Coil Copolymers 70
2.2.2 Poly(p-Phenylene-vinylene)-Type Rod–Coil Copolymers 73
2.2.3 Polyfluorene-Type Rod–Coil Copolymers 79
2.2.4 Poly(p-Phenyleneethynylene)-Type Rod–Coil Copolymers 83
2.2.5 Polythiophene-Type Rod–Coil Copolymers 87
2.2.6 Other Luminescent Rod–Coil Copolymers 89
2.3 Alternating Conjugated–Nonconjugated Polymers 92
2.3.1 Oligo(Phenylene-vinylenes) 92
2.3.2 Oligophenylenes 99
2.3.3 Oligothiophenes 102
2.3.4 Anthracenes 106
2.3.5 Other Aromatic Structures 109
2.3.6 Heteroatom-containing Structures 111
References 113
Structure/Morphology
3 Interfacial Aspects of Semiconducting Polymer Devices 121
Richard A. L. Jones
3.1 Introduction 121
3.2 Some Basics of Polymer Blend Thermodynamics and Dynamics 122
3.3 Surface Segregation, Surface-driven Phase Separation, Wetting and Self-Stratification 126
3.4 Morphology in Thin Films of Semiconducting Polymer Blends 129
3.5 Surface Segregation in Polymer-doped Conducting Polymers 131
3.6 Interface Structure 134
3.7 Conclusions 136
References 137
Electronic Structure of Interfaces
4 Electronic Structure of Surfaces and Interfaces in Conjugated Polymers 141
Michael Lögdlund, Mats Fahlman, Stina K.M. Jönsson, and William R. Salaneck
4.1 Introduction 141
4.2 Photoelectron Spectroscopy 142
4.2.1 X-Ray Photoelectron Spectroscopy 145
4.2.2 Ultraviolet Photoelectron Spectroscopy 146
4.3 Theoretical Approaches 148
4.4 Materials 149
4.4.1 Trans-Polyacetylene 149
4.4.2 Poly(p-phenylenevinylene) 152
4.4.3 Poly(3,4-ethylenedioxythiophene) 154
4.4.4 Solvent Effect on Conductivity in PEDOT–PSS Films 156
4.5 Charge Storage States in Conjugated Polymers 158
4.6 Interface Formations in Conjugated Systems 161
4.7 Summary 172
References 172
Photophysics
5 Photophysics of Conjugated Polymers 179
Lewis Rothberg
5.1 Introduction and Overview 179
5.2 Definitions and Terminology 180
5.3 Spectroscopy 182
5.3.1 Spectroscopy of the Conjugated Polymers in Solution 182
5.3.2 Spectroscopy of Conjugated Polymer Films 183
5.4 Photophysics 188
5.4.1 Photophysics and Excited-State Decay Dynamics in Solution 188
5.4.2 Photophysics in Neat Conjugated Polymer Films 189
5.5 Summary 196
5.5.1 Spectroscopy 196
5.5.2 Exciton Binding Energy 197
5.5.3 Luminescence Quantum Yield 198
5.5.4 PL Decay Dynamics 199
5.6 Conclusion 200
References 201
6 Photophysics in Semiconducting Polymers: The Case of Polyfluorenes 205
Christoph Gadermaier, Larry Lüer, Alessio Gambetta, Tersilla Virgili, Margherita Zavelani-Rossi, and Guglielmo Lanzani
6.1 Introduction 205
6.2 Experimental 206
6.2.1 The Pump–Probe Technique 206
6.2.2 The Pump–Push–Probe Experiment 210
6.2.3 The Field-Assisted Pump–Probe Experiment 210
6.2.4 Excitation Cross-Correlation Photoconductivity 211
6.2.5 Quasi-Steady-State Photoinduced Absorption 211
6.3 Low-Dimensional Physics in Conjugated Chains 212
6.4 Ground-State Absorption and cw Photoluminescence 213
6.5 Long-Lived Photoexcitation in Polyfluorenes (PFs) 214
6.6 Singlet Exciton Dynamics 215
6.7 On-Chain Emissive Defects 218
6.8 Charged Excitations and Their Photogeneration Mechanism 221
6.9 Intrachain Dynamics 224
6.10 Three-Pulse Time-Resolved Experiments 226
6.11 Light-Emitting-Diode-Related Dynamics in the Ultrafast
Timescale 229
References 232
7 Spectroscopy of Photoexcitations in Conjugated Polymers 235
Z. Valy Vardeny and Markus Wohlgenannt
7.1 Introduction 235
7.1.1 Basic Properties of _-Conjugated Polymers 235
7.1.2 Optical Transitions of Photoexcitations in Conducting Polymers 238
7.1.3 Optical Transitions of Charged Excitations in NDGS Polymers 238
7.1.4 Optical Transitions of Neutral Excitations in NDGS Polymers 240
7.2 Experimental Methods 241
7.2.1 Photomodulation Spectroscopy of Long-Lived Photoexcitations 242
7.2.2 Picosecond Pump and Probe Spectroscopy 243
7.2.3 Optically Detected Magnetic Resonance Techniques 243
7.3 Experimental Results: cw PA Spectroscopy 245
7.3.1 Photophysics of Red-Emitting Polythiophenes: Regioregular, Regiorandom 245
7.3.2 Photophysics of a Blue-Emitting Polyfluorene 251
7.4 Transient Pump-and-Probe Spectroscopy 254
7.4.1 Ground and Excited State Absorption in PPV 254
7.5 Multiple-Pulse Transient Spectroscopy 257
7.5.1 mAg Relaxation Dynamics 258
7.5.2 kAg Relaxation Dynamics 260
7.6 ODMR Spectroscopy: Measurement of Spin-Dependent Polaron Recombination Rates 262
7.6.1 Spin-Dependent Exciton Formation Probed by PADMR Spectroscopy 262
7.6.2 Material Dependence of Spin-Dependent Exciton Formation Rates 264
7.7 Summary 265
References 267
Transport/Injection
8 Charge Transport in Neat and Doped Random Organic Semiconductors 275
Vladimir I. Arkhipov, Igor I. Fishchuk, Andriy Kadashchuk, and Heinz Bässler
8.1 Introduction 275
8.2 Charge Generation 276
8.3 Charge-Carrier Hopping in Noncrystalline Organic Materials 279
8.3.1 Outline of Conceptual Approaches 279
8.3.2 Stochastic Hopping Theory 287
8.3.3 Effective-Medium Approximation Theory of Hopping Charge-Carrier Transport 310
8.4 Experimental Techniques 333
8.4.1 Charge-Carrier Generation 333
8.4.2 Experimental Techniques to Measure Charge Transport 336
8.5 Experimental Results 342
8.5.1 Analysis of Charge Transport in a Random Organic Solid with Energetic Disorder 342
8.5.2 The Effect of Positional Disorder 353
8.5.3 Trapping Effects 356
8.5.4 Polaron Effects 361
8.5.5 Chemical and Morphological Aspects of Charge Transport 365
8.5.6 On-Chain Transport Probed by Microwave Conductivity 371
8.6 Conclusions 373
References 375
9 Charge Transport and Injection in Conjugated Polymers 385
Paul W.M. Blom, Cristina Tanase, and Teunis van Woudenbergh
9.1 Introduction 385
9.2 Charge Transport 388
9.2.1 Disorder-Induced Localized States 388
9.2.2 Charge Transport in Polymer LEDs and FETs 391
9.2.3 Unification of the Charge Transport in Disordered PolymerLEDs and FETs 396
9.2.4 Origin of the Enhanced SCLC in PPV-Based Diodes 401
9.2.5 Thickness-Dependence of SCLC in PPV-Based LEDs 405
9.2.6 Summary 407
9.3 Charge Injection 407
9.3.1 Introduction 407
9.3.2 Classical Injection Models 408
9.3.3 Hopping-Based Injection 409
9.3.4 Temperature-Dependence of the Charge Injection 411
9.3.5 Application of the Hopping Injection Model 414
9.3.6 Conclusion 416
References 417
VOLUME 2 Applications
10 Physics of Organic Light-Emitting Diodes 421
Ian H. Campbell, Brian K. Crone, and Darryl L. Smith
10.1 Introduction 421
10.2 Thin Films of Organic Semiconductors 423
10.2.1 Electronic Energy Structure 424
10.2.2 Optical Properties 425
10.2.3 Electrical Transport Properties 426
10.3 Device Electronic Structure 427
10.3.1 Internal Photoemission Measurements of Schottky Energy Barriers 427
10.3.2 Built-in Potentials in Device Structures 430
10.4 Single-Layer Devices 434
10.4.1 Single-Carrier Structures 435
10.4.2 Two-Carrier Structures 440
10.5 Multilayer Devices 444
10.5.1 Blocking Layers 445
10.5.2 Transport Layers 447
10.5.3 Two-Carrier Multilayer Devices 449
10.6 Conclusions 451
References 452
11 Conjugated Polymer-Based Organic Solar Cells 455
Gilles Dennler, Niyazi Serdar Sariciftci, and Christoph J. Brabec
11.1 Introduction 455
11.1.1 Photovoltaics 455
11.1.2 Technology Overview and Forecasts 456
11.1.3 Motivation for OPV 459
11.2 Conjugated Polymers as Photoexcited Donors 460
11.2.1 Optical Properties 461
11.2.2 Sensitivation of Conductivity 467
11.2.3 Magnetic Properties 468
11.3 Bulk-Heterojunction Solar Cells 469
11.3.1 Basics of Organic Solar Cells 469
11.3.2 Pure Conjugated-Polymer Photovoltaic Devices 472
11.3.3 Conjugated Polymer-Based Bilayer Devices 474
11.3.4 Conjugated Polymer-Based Bulk-Heterojunction Devices 478
11.4 Determining Parameters of Bulk-Heterojunction Solar Cells 481
11.4.1 Voltage at Open Circuit 481
11.4.2 Light Harvesting 485
11.4.3 Morphology of the Photoactive Donor: Acceptor Blends 489
11.4.4 Charge-Carrier Transport in Bulk-Heterojunction Blends 493
11.4.5 Modeling Bulk-Heterojunction-Device Operation 502
11.5 From Basics to Applications 507
11.5.1 Production Scheme 507
11.5.2 Encapsulation of Flexible Solar Cells 511
11.5.3 Routes for Improvements 516
11.6 Conclusions 519
References 520
12 Organic Thin-Film Transistors 531
Gilles Horowitz
12.1 Introduction 531
12.2 The MISFET – A Reminder 532
12.2.1 The Metal–Insulator–Semiconductor (MIS) Junction 532
12.2.2 The Metal–Insulator–Semiconductor Field-Effect Transistor (MISFET) 539
12.3 The Organic Transistor – What's Different? 544
12.3.1 Threshold Voltage 545
12.3.2 Depletion Regime 546
12.3.3 Contact Resistance 546
12.3.4 Charge Distribution Across the Conducting Channel 551
12.4 Charge-Transport Mechanisms 555
12.4.1 Band-Like Transport 556
12.4.2 Polaron Transport 556
12.4.3 Hopping Models 558
12.4.4 Trap-Limited Transport 559
12.4.5 Gate-Voltage-Dependent Mobility 560
12.4.6 Role of the Insulator 562
12.5 Concluding Remarks 563
References 564
13 n-Channel Organic Transistor Semiconductors for Plastic Electronics Technologies 567
Howard E. Katz
13.1 Plastic Electronics Technology and Organic Semiconductors 567
13.2 n-Channel OFET Semiconductors 571
13.3 Conclusion 575
References 575
14 Photochromic Diodes 579
Xavier Crispin, Peter Andersson, Nathaniel D. Robinson, Yoann Olivier, Jérôme Cornil, and Magnus Berggren
14.1 Introduction 579
14.2 Photochromic Molecules 580
14.3 Organic Diodes 585
14.4 Electronic Switches – Device Concepts 586
14.4.1 Electronic Write Mode 587
14.4.2 Optical Write Mode 593
14.5 Conclusions 609
References 610
15 Organic/Polymeric Thin-Film Memory Devices 613
Yang Yang, Jianyong Ouyang, Liping Ma, Jia-Hung Tseng, and Chih-Wei Chu
15.1 Introduction 613
15.2 Review of Polymer and Organic Memory 614
15.2.1 Electric-Field-Induced Charge-Transfer Effect 614
15.2.2 Ionic Diffusion Effect 615
15.2.3 Nanoparticle Layered Structures 615
15.2.4 Crossbar Molecular Switch 616
15.3 OMO Nanoparticle Layered Memory Devices 616
15.3.1 Device Fabrication 617
15.3.2 Electrical Characteristics 619
15.3.3 Conduction and Switching Mechanisms 621
15.4 Polymer-Blend Composite System 621
15.4.1 Device Fabrication 622
15.4.2 Electrical Characteristics 623
15.4.3 Conduction and Switching Mechanisms 625
15.5 Advanced Memory Device Architecture 629
15.5.1 WORM Memory Devices 630
15.5.2 All-Organic Donor–Acceptor System 632
15.5.3 Polymer with Built-In Nanoparticle System 634
15.6 Conclusion 637
References 639
16 Biosensors Based on Conjugated Polymers 643
Hoang-Anh Ho and Mario Leclerc
16.1 Introduction 643
16.2 Different Types of CPs 644
16.3 Colorimetric Methods 644
16.4 Fluorometric Methods 651
16.5 Electrochemical Methods 658
16.6 Conclusions and Perspectives 661
References 662
Processing
17 Manufacturing of Organic Transistor Circuits by Solution-Based Printing 667
Henning Sirringhaus, Christoph W. Sele, Timothy von Werne, and Catherine Ramsdale
17.1 Introduction to Printed Organic Thin-Film Transistors 667
17.2 Overview of Printing-Based Manufacturing Approaches for OTFTs 670
17.2.1 Screen Printing 671
17.2.2 Offset Printing 671
17.2.3 Gravure Printing 673
17.2.4 Flexography 673
17.2.5 Inkjet Printing 674
17.2.6 Laser-Based Dry Printing Techniques 675
17.2.7 Other Nonlithographic Manufacturing Approaches 676
17.3 High-Resolution, Self-Aligned Inkjet Printing 677
17.3.1 Self-Aligned Printing by Selective Surface Treatment 680
17.3.2 Self-Aligned Printing by Surface Segregation 680
17.3.3 Self-Aligned Printing by Autophobing 682
17.4 Performance and Reliability of Solution-Processed OTFTs for Applications in Flexible Displays 688
17.5 Conclusions 693
References 694
18 High-Resolution Composite Materials for Organic Electronics 699
Graciela Blanchet
18.1 Introduction 699
18.2 Building Blocks 699
18.3 Large-Area Printing Process and Devices 701
18.3.1 Process: Thermal Imaging 701
18.3.2 Printed Devices: From TFTs to Large-Area Backplanes 702
18.4 Printable Materials 710
18.4.1 Polyaniline-Nanotube Composites: A High-Resolution Printable Conductor 710
18.4.2 Conducting Composites in an Insulating Matrix 715
18.4.3 Semiconducting Composites 720
18.5 Conclusion 728
References 729
Subject Index 731