Semiconductor Devices: Basic Principles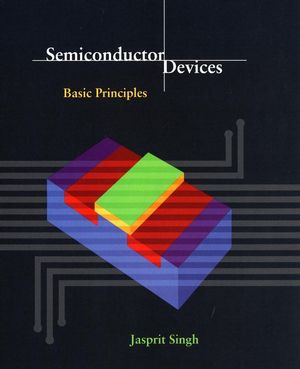 Semiconductor Devices: Basic Principles
ISBN: 978-0-471-36245-6
Jul 2000
576 pages
Description
This introductory text designed for the first course in semiconductor physics presents a well-balanced coverage of semiconductor physics and device operation and shows how devices are optimized for applications. The text begins with an exploration of the basic physical processes upon which all semiconductor devices—diodes, transistor, light emitters, and detectors—are based. Topics such as bandstructure, effective masses, holes, doping, carrier transport and lifetimes are discussed. Next, the author focuses on the operation of the important semiconductor devices along with issues relating to the optimization of device performance. Issues such as how doping, device dimensions, and parasitic effects influence device operation are also included.
The book is appropriate for the following courses: Device Physics; Semiconductor Devices; Device Electronics; Physics of Semiconductor Devices; Integrated Circuit Devices; Device Electronics: Solid State Devices.
Electrons in Solids.

Electrons in Semiconductors.

Carrier Dynamics in Semiconductors.

Processing of Devices: A Review.

Junctions in Semiconductors: P-N Diodes.

Semiconductor Junctions with Metals and Insulators.

Bipolar Junction Transistors.

Field Effect Transistors: JFET/MESFET.

Field Effect Transistors: MOSFET.

MOSFET: Technology Driver.

Semiconductor Optoelectronics.

Appendices.

Index.
Over 150 solved examples that clarify concepts are integrated throughout the text.
End-of-chapter summary tables and hundreds of figures are included to reinforce the intricacies of modern semiconductor devices.
Coverage of device optimization issues shows the student how in each device one has to trade one performance against another.
Shows the relationship of physical parameters to SPICE parameters and its impact on circuit issues.
The chapters on devices end with roadmaps which show how state-of-the-art in device technology is expected to progress.
A Bit of History section is included in each chapter which explores the history of the concepts developed and provides a snapshot of the personalities involved and the challenges of the time.