Senseless Panic: How Washington Failed America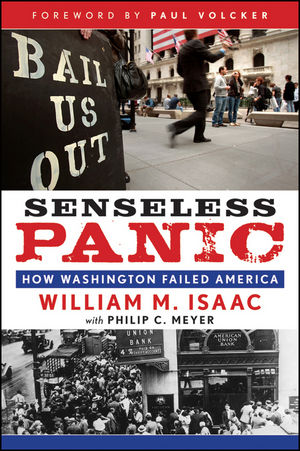 Senseless Panic: How Washington Failed America
ISBN: 978-0-470-64036-4 June 2010 208 Pages
Description
The 1980s opened with the prime interest rate at an astonishing 21.5 percent, leading to a severe recession with unemployment reaching nearly 11 percent. Depression-like conditions befell the agricultural sector, a bubble burst in the energy sector, a rolling real estate recession swept the country, the entire thrift industry was badly insolvent and the major money center banks were loaded with third world debt. Some 3,000 bank and thrifts failed, including nine of Texas' 10 largest, and Continental Illinois, which, at the time, was the 7thlargest bank in the nation. These severe conditions were not only handled without creating a panic, the economy actually embarked on the longest peacetime expansion in history.

In Senseless Panic: How Washington Failed America, William M. Isaac, Chairman of the Federal Deposit Insurance Corporation (FDIC) during the banking and S&L crises of the 1980s, details what was different about 2008's meltdown that allowed the failure of a comparative handful of institutions to nearly shut down the world's financial system. The book also tells the rousing story of Isaac's time at the FDIC. With accessible and engaging prose, Isaac:
Details the mistakes that led to the panic of 2008 and 2009
Demystifies the conditions America faced in 2008, and
Provides a roadmap for avoiding similar shutdowns and panics in the future
Senseless Panicis a provocative, quick-paced, and thoughtful analysis of what went wrong with the nation's banking system and a blunt indictment of United States policy.
Foreword.
Acknowledgments.
Introduction.
Part One: No Calm Before the Storm.
Chapter 1 Home Alone.
Chapter 2 The Early Years (1978 –1981).
Chapter 3 The Savings Bank and S&L Crises.
Chapter 4 Penn Square Fails.
Chapter 5 The Butcher Empire Collapses.
Chapter 6 Deposit Insurance Reform/Tackling Wall Street.
Chapter 7 Continental Illinois Topples.
Chapter 8 Preparing to Leave.
Chapter 9 Lessons Learned.
Part Two: Here We Go Again.
Chapter 10 Policy Mistakes—1989 through 2007.
Chapter 11 The Subprime Mortgage Problem.
Chapter 12 SEC and FASB Blunders.
Chapter 13 Schizophrenic Failure Resolution.
Chapter 14 The $700 Billion Bailout.
Chapter 15 Never Again.
Afterword.
Authors' Notes on Sources.
About the Authors.
Index.