Sensors, A Comprehensive Survey, Volume 4, Thermal Sensors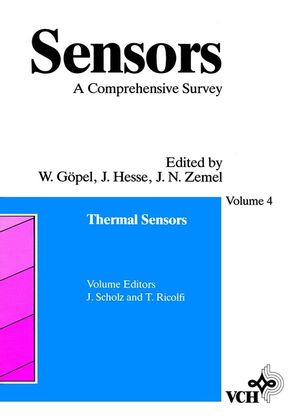 Sensors, A Comprehensive Survey, Volume 4, Thermal Sensors
ISBN: 978-3-527-62015-9
Mar 2008
424 pages
Description
'Sensors' is the first self-contained series to deal with the whole area of sensors. It describes general aspects, technical and physical fundamentals, construction, function, applications and developments of the various types of sensors.
This volume describes the construction and applicational aspects of thermal sensors while presenting a rigorous treatment of the underlying physical principles. It provides a unique overview of the various categories of sensors as well as of specific groups, e.g. temperature sensors (resistance thermometers, thermocouples, and radiation thermometers), noise and acoustic thermometers, heat-flow and mass-flow sensors. Specific facettes of applications are presented by specialists from different fields including process control, automotive technology and cryogenics. This volume is an indispensable reference work and text book for both specialists and newcomers, researchers and developers.
General Aspects (T.Ricolfi & J. Scholz).
Physical Principles (R. Bedford).
Resistance Thermometers (L. Crovini).
Thermocouples (H. Vanvor).
Radiation Thermometers (T. Ricolfi & R. Barber).
Noise Thermometers (H. Brixy).
Time/Frequency Thermometers (H. Ziegler, et al.).
Heat-flux Sensors (F. Graaf).
Thermal Massflow Meters (M. Hohenstatt).
Cryogenics (F. Pavese).
Automobiles (G. Kleinert & W. Porth).
Temperature Dependence and Process Control (I. Gessler).
Index.
List of Symbols and Abbreviations.