Serial Killers - Philosophy for Everyone: Being and Killing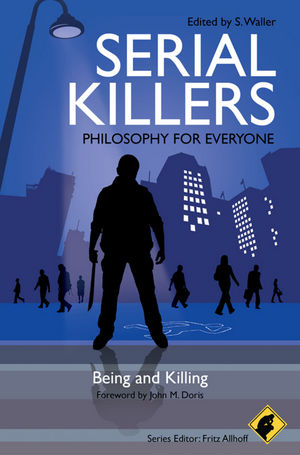 Serial Killers - Philosophy for Everyone: Being and Killing
ISBN: 978-1-405-19963-6 October 2010 Wiley-Blackwell 248 Pages
Description
Serial Killers - Philosophy for Everyone investigates our profound intrigue with mass-murderers. Exploring existential, ethical and political questions through an examination of real and fictional serial killers, philosophy comes alive via an exploration of grisly death.
Presents new philosophical theories about serial killing, and relates new research in cognitive science to the minds of serial killers
Includes a philosophical look at real serial killers such as Ian Brady, Ted Bundy, John Wayne Gacy, Jeffrey Dahmer and the Zodiac killer, as well as fictional serial killers such as Dexter and Hannibal Lecter
Offers a new phenomenological examination of the writings of the Zodiac Killer
Contains an account of the disappearance of one of Ted Bundy's victims submitted by the organization Families and Friends of Missing Persons and Violent Crime Victims
Integrates the insights of philosophers, academics, crime writers and police officers
Foreword (
John M. Doris
).
Acknowledgments (S. Waller).
Introduction: Meditations on Murder, or What is so Philosophical about Serial Killers? (S. Waller and William E. Deal).
PART I I THINK THEREFORE I KILL: The Philosophical Musings of Serial Killers.
1 Man is the Most Dangerous Animal of All: A Philosophical Gaze into the Writings of the Zodiac Killer (Andrew M. Winters).
2 A Philosophy of Serial Killing: Sade, Nietzsche, and Brady at the Gates of Janus (David Schmid).
3 The Situation of the Jury: Attribution Bias in the Trials of Accused Serial Killers (Mark Alfano).
PART II CAN YOU BLAME THEM? ETHICS, EVIL, AND SERIAL KILLING.
4 Serial Killers as Practical Moral Skeptics: A Historical Survey with Interviews (Amanda Howard).
5 Are Psychopathic Serial Killers Evil? Are They Blameworthy for What They Do? (Manuel Vargas).
6 Sympathy for the Devil: Can a Serial Killer Ever Be Good? (Matthew Brophy).
PART III DANGEROUS INFATUATIONS: The Public Fascination with Serial Killers.
7 The Allure of the Serial Killer (Eric Dietrich and Tara Fox Hall).
8 Dexter's Dark World: The Serial Killer as Superhero (Susan Amper).
PART IV A EULOGY FOR EMOTION: The Lack of Empathy and the Urge to Kill.
9 Killing with Kindness: Nature, Nurture, and the Female Serial Killer (Elizabeth Schechter and Harold Schechter).
10 It Puts the Lotion in the Basket: The Language of Psychopathy (Chris Keegan).
11 Are Serial Killers Cold-Blooded Killers? (Andrew Terjesen).
PART V CREEPY COGNITION: Talking and Thinking about Serial Killers.
12 The Serial Killer was (Cognitively) Framed (William E. Deal).
13 Wolves and Widows: Naming, Metaphor, and the Language of Serial Murder (Wendy M. Zirngibl).
14 An Arresting Conversation: Police Philosophize about the Armed and Dangerous (S. Waller (with Diane Amarillas and Karen Kos))..
PART VI PSYCHO-OLOGY: Killer Mindsets and Meditations on Murder.
15 Psychopathy and Will to Power: Ted Bundy and Dennis Rader (Richard M. Gray).
16 The Thread of Death, or the Compulsion to Kill (J. S. Piven).
A Solemn Afterword: A Message from the Victim's Network (Mary Miller).
A Timeline of Serial Killers (Amanda Howard).
Notes on Contributors.
"I found this book enlightening in many ways and on some things I'm not going to make too many mistakes if I use such people in any of my stories. I should also point out that none of the material is too graphic and centres mostly on what makes serial killers tick even if there is no precise pattern." (SFCrowsnest.co.uk, 1 April 2011)
"If you're a Dexter fan looking for someplace to start in learning about real-life serial killers, this is a solid and fairly complete volume to start with. At a slim 248 pages, it's also ideal for those who don't have the time to invest in a larger volume. As the title of the series implies, this really is a book that's accessible to everyone." (Digital Air Waves, November 2010)
"There is very little to complain about here. The language used is simple and it certainly leaves the reader with plenty of food for thought." (Curious Book Fan, November 2010)
"One thing I can say about this book, is it stays in your head, at least parts of it. Weeks after reading Serial Killers, Philosophy for Everyone, I still can't help but come back to the section concerning Dexter and how peoples outlook on a serial killer changes based on what they know of a serial killers background and family life. The book is definitely a conversation starter, having many since adding it to my coffee table books. You can always tell whose interested and who tries to pretend they don't see it." (Gatekeeper Chronicles blog, November 2010)