Service-Learning: A Movement's Pioneers Reflect on Its Origins, Practice, and Future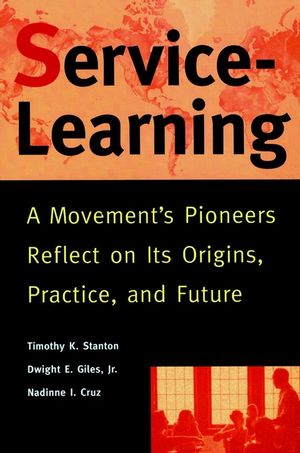 Service-Learning: A Movement's Pioneers Reflect on Its Origins, Practice, and Future
ISBN: 978-0-787-94317-2
Jan 1999, Jossey-Bass
304 pages
Description
"A frank, thorough history and review of service-learning.... Service-Learning is a critical piece of the large service-learning movement. It is an ideal guide for new service-learning professionals, faculty members, academic or service administrators, and hopefully, public policymakers."

--Pade Informer

In this fascinating collection of stories, leaders in service-learning describe their early efforts to combine education with social action. Their reflections help construct a pedagogy of service-learning that will inspire newcomers and guide program development. The authors assess pioneering experiences and recommAnd steps for future policy and practice, emphasizing the critical need to preserve an activist commitment as programs become increasingly institutionalized. This highly readable book will assist academic leaders, faculty members, student services professionals, educational researchers, adult educators, and public policymakers who seek a common understanding of the origins, purposes, and objectives of this vital learning initiative.
1. Helping a "New" Field Discover Its History.

2. Early Connections between Service and Education (Seth S. Pollack).

3. Seeds of Commitment: Personal Accounts of the Pioneers.

4. First Professional Steps: A Journey into Uncharted Territory.

5. Which Side Were They On? The Pioneers Target Higher Education.

6. Strategy and Practice: Empowering Students to Serve Communities.

7. Strategy and Practice: Empowering Communities through Student Service.

8. Mainstreams or Margins? The Dilemma of Institutionalization.

9. Helps, Hindrances, and Accomplishments: Reflections on the Pioneer Experience.

10. Passing the Torch: Advice to Today's Students and Practitioners.
"A frank, thorough history and review of service-learning.... Service-Learning is a critical piece of the large service-learning movement. It is an ideal guide for new service-learning professionals, faculty members, academic or service administrators, and hopefully, public policymakers." (Pade Informer)

"For those interested in service-learning--whether as a novice or experienced faculty practitioner, as a scholar of higher education or social movements, as a student, as a community partner, or as an interested observer--this book is a must read." (Michigan Journal of Community Service Learning)

"This is an engrossing story of pedagogical pioneers who sought, in different ways, to link their passions for service to society, for social justice, and for democracy, with their deep commitments to undergraduate learning. The story is so captivating because it is primarily told in the words of the women and men who shaped the pedagogy of service-learning." (Thomas Ehrlich, Distinguished University Scholar, California State University, and senior scholar, Carnegie Foundation for the Advancement of Teaching)

"When three of today's most important voices in service-learning conduct oral histories with the movement's pioneers and founders, the dialogue creates a rich historical tapestry of inspiration, warning, encouragement, and understanding with immediate consequence for the place of students in American higher education and the role of higher education in the American community." (Jeremy Cohen, dean, College of Communications, The Pennsylvania State University)

"This book presents a vivid picture of the role of radical politics in the emergence of service-learning, the early tension between student and community development, and the pioneers' sometimes anti-establishment orientations toward universities. The authors provide a historical context that greatly enriches our understanding of service-learning in its contemporary forms, which becomes ever more important as the enthusiasm for this approach to education grows." (Anne Colby, senior scholar, Carnegie Foundation for the Advancement of Teaching)