Service Management and Marketing: Customer Management in Service Competition, 3rd Edition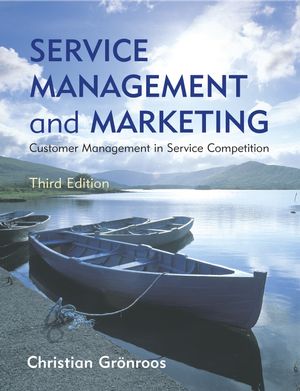 Service Management and Marketing: Customer Management in Service Competition, 3rd Edition
ISBN: 978-0-470-72748-5 July 2011 496 Pages
Description
"Professor Grönroos presents the most scholarly and provocative examination of services marketing. This book will challenge companies to rethink how they should manage their services in building their competitive strength and profitability. Grönroos continues as one of service marketing's most original and able thinkers."
—Philip Kotler, S. C. Johnson Distinguished Professor of International Marketing J.L. Kellogg School of Management, Northwestern University

"Christian Grönroos is a globally recognized expert on services management and marketing. His innovative thinking and writing in this book offer fresh insights on this timely topic."
—Stephen W. Brown, PhD, Carson Chair, Professor and Executive Director, Center for Services Leadership, W. P. Carey School of Business, Arizona State University

"After three decades of contributions to services, Grönroos keeps pioneering the field. In this new edition he recognizes the dramatic changes in the perception of service that are in the making. It is a creative book which does not just list various service issues but adds the author's personal touch to each of them."
—Professor Evert Gummesson, Stockholm University School of Business, Sweden

This fully updated third edition examines customer management in service competition and focuses on adopting a service logic in marketing. Christian Grönroos explains how to manage any organization as a service business, showing how to move closer to current and future customers. The service logic is all about customer focused management and service management, using current academic research and business practice to make organizations more successful.

Topics that have been updated for the new edition include:
Service and relationship perspectives
Service and relationship quality
Service management principles
Profitability and productivity in services
Integrated marketing communication
Relationship communication and branding in services
Internal marketing and service culture
Why and how to transform a product-manufacturing firm into a service business
Preface
vii
1 The Service and Relationship Imperative: Managing in Service Competition 1
2 Managing Customer Relationships: An Alternative Paradigm in Management and Marketing 23
3 The Nature of Services and Service Consumption, and its Marketing Consequences 51
4 Service and Relationship Quality 71
5 Quality Management in Services 111
6 Return on Service and Relationships 141
7 Managing the Augmented Service Offering 183
8 Service Management Principles 209
9 Managing Productivity in Service Organizations 233
10 Managing Marketing or Market-oriented Management 263
11 Managing Integrated Marketing Communication and Total Communication 303
12 Managing Brand Relationships and Image 329
13 Customer-focused Organization: Structure, Resources and Service Processes 347
14 Managing Internal Marketing: A Prerequisite for Successful Customer Management 383
15 Managing Service Culture: The Internal Service Imperative 415
16 Transforming a Manufacturing Firm into a Service Business 433
17 Conclusions: Managing Services and Relationships 453
Index 473
New chapter on how manufacturing firms can become service businesses.
The chapter on internal marketing now covers a relationship-mediated approach to encourage service-focused employees.
New material on service recovery.
Describes the nature and scope of market-oriented management in service competition
Takes a management approach and strategic focus
The text draws from a wide base of international research and provides numerous international examples