Serving Students with Disabilities: New Directions for Student Services, Number 91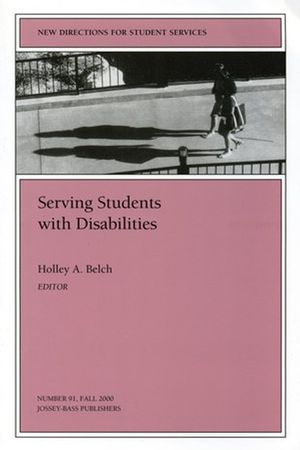 Serving Students with Disabilities: New Directions for Student Services, Number 91
ISBN: 978-1-118-21665-1
Sep 2011, Jossey-Bass
110 pages
Description
This issue examines what student services professionals can do to ensure the success of the growing population of students with disabilities. The contributors explore the critical role that community and dignity play in creating a meaningful educational experience for students with disabilities and show how to help these students gain meaningful access and full participation in campus activities. In addition to such common concerns as fulfilling legal requirements and overcoming architectural barriers, the contributors also address a full range of important issues such as effective approaches to recruitment and retention, strategies for career and academic advising, and the impact of financial resources on funding programs and services. This is the 91st issue of the quarterly journal New Directions for Student Services.
EDITOR'S NOTES 1
Holley A. Belch
1. Setting the Context: Reconsidering the Principles of Full Participation and Meaningful Access for Students with Disabilities 5
Linda M. Hall, Holley A. Belch
Demographic trends and the fundamental principles of access and participation are addressed in the context of the lessons learned as other historically underrepresented groups have entered higher education.
2. Creating Environments of Ability 19
Carney Strange
This chapter explores how various dimensions of campus environments must change to become more responsive to the needs of students with disabilities.
3. Recruitment and Admission of Students with Disabilities 31
Barbara J. Palombi
This chapter focuses on the role of student affairs professionals and other administrative offices in assisting students with disabilities in their journey from high school to institutions of higher education.
4. Enhancing Out-of-Class Opportunities for Students with Disabilities 41
Donna Johnson
This chapter explores ways to improve the accessibility of campus life, experiential learning (internships and service learning), study abroad, and sports and recreation.
5. Career and Academic Advising 55
Betty Aune
This chapter examines career and academic advising issues in the context of the interactional model of disability.
6. Legal Issues in Serving Students with Disabilities in Postsecondary Education 69
Jo Anne Simon
The balance of rights and responsibilities of students and institutions is a dynamically evolving area and one with which student affairs administrators must be familiar.
7. Funding Programs and Services for Students with Disabilities 83
James Rund, Tedde Scharf
This chapter examines the dilemmas of funding disability programs and services, the sources of funds available, and the key issues that affect funding.
INDEX 93