Serving Those in Need: A Handbook for Managing Faith-Based Human Services Organizations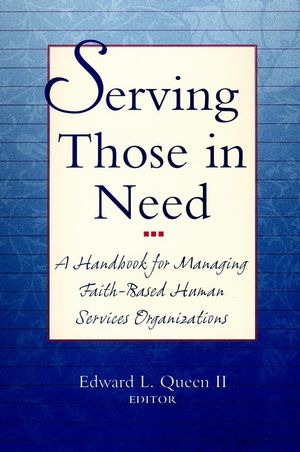 Serving Those in Need: A Handbook for Managing Faith-Based Human Services Organizations
ISBN: 978-0-787-94296-0
Apr 2000, Jossey-Bass
320 pages
Description
Given the increased pressures and higher demand on social-service organizations, faith-based providers must find ways to increase their effectiveness while maintaining their religious distinctiveness. Serving Those in Need provides practical answers for those engaged in the delivery of human and social services. The editor and contributors draw from their deep commitment to faith, from a sense that religion plays a powerfully important role in people's lives and in our public life. For those who view service to others as a means of realizing their faith, this book will be tremendously useful.
Introduction, The Meaning of Faith-Based Human Services (Edward Queen).

PREPARING FOR SERVICE.

1. Religion and the Emerging Context of Service Delivery (Edward Queen).

2. Congregations and Social Ministry-Preparation and Development (Carl Dudley).

3. Congregations and Communities Working Together (John Kretzmann).

CAPACITY BUILDING.

4 .Building and Sustaining Lay Leadership: Boards and Mission (James B. Lemler).

5. Funding the Dream (Sara Ann Robertson).

6. Stakeholder Analysis as a Tool for Faith-Based Organizations (Mary Tschirhart & Eric Knueve).

7. Developing Financial Accountability and Controls (John Zietlow).

8. Volunteerism and Organized Religion (Ram A. Cnaan & Gaynor I. Yancey).

9. Finding Help and Advice at the School Next Door: Working with Academic Institutions (Art Farnsley).

10. Money with (Some) Strings (Stephen Monsma).

11. Working with Foundations (Edward Queen).

BEYOND BASIC NEEDS.

12. Community-Based Economic Development (Eric Clay & Elliott Wright).

13. The Role of Local Congregations in Facilitating the Delivery of Health Care Services (Sandra Burgener).

14. Religion in the `Hood: Faith-based Initiatives with High Risk Youth (Harold Dean Trulear).
""With government at all levels initiating collaborations with religious organizations, there could hardly be a more timely or useful book for board members and volunteers of faith-based social service providers. This important volume highlights the challenges such providers face and offers specific, useful advice for meeting those challenges while remaining true to the provider's religious mission."" (Sheila Suess Kennedy, assistant professor, law and public policy, Indiana University-Purdue University at Indianapolis)

""While this book deals primarily with Christian organizations, the principles used by faith-based organizations are essentially the same. Anyone involved with the management or leadership of a Muslim nonprofit organization should read this book."" (Shariq A. Siddiqui, director, community development and fundraising, Islamic Society of North America)