Serving the Public Trust: Insights into Fundraising Research and Practice: New Directions for Philanthropic Fundraising, Number 26, Volume 1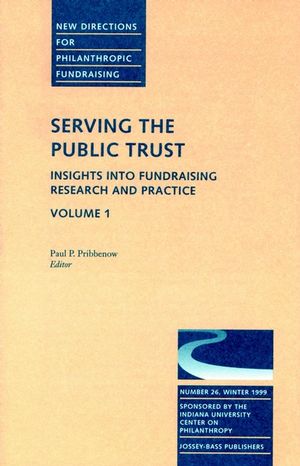 Serving the Public Trust: Insights into Fundraising Research and Practice: New Directions for Philanthropic Fundraising, Number 26, Volume 1
ISBN: 978-0-787-95377-5 November 2000 Jossey-Bass 120 Pages
Description
During the past forty years, fundraising has evolved into a profession that is characterized by increasingly sophisticated methods and purposes, defining much of how philanthropy is practiced in the United States. This evolution of fundraising has resulted in many new issues relating to how institutions, individual citizens, and the government perceive the current practice of philanthropy and where professional fundraisers fit into common life. This issue presents four papers that were originally commissioned for the 1999 Think-Tank on Fund-Raising Research and two responses to these papers. The information presented shows the ways in which trust and policy are grounded in our common history and experience and illustrates how working together will forge a stronger link between public trust and policy. This issue offers insightful glimpses into questions society must consider as it seeks a healthier understanding about philanthropy and philanthropic fundraising, seeking to strengthen the role of philanthropy. This is the 26th issue of the quarterly journal New Directions for Philanthropic Fundraising.
1. Philanthropy and trust (Robert L. Payton).
2. Not-for-profits into the breach: Between public trust and public policy (Joel L. Fleishman).
3. Love and work: Rethinking our models of profession (Paul P. Pribbenow).
4. Trust and fundraising as a profession (Eugene R. Tempel).
5. The future of corporate giving (Dwight F. Burlingame, Craig Smith).
6. The fifth way: The new corporate phlanthropy at the milennium (Eugene A. Scanlan).