Serving the Public Trust: Insights into Fundraising Research and Practice: New Directions for Philanthropic Fundraising, Number 27, Volume 2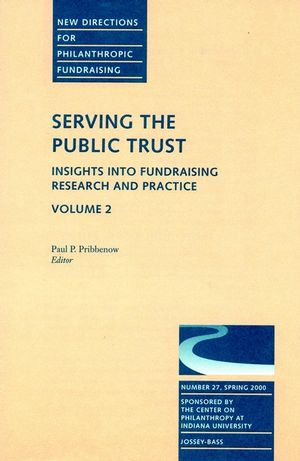 Serving the Public Trust: Insights into Fundraising Research and Practice: New Directions for Philanthropic Fundraising, Number 27, Volume 2
ISBN: 978-0-787-95440-6
Feb 2001, Jossey-Bass
120 pages
Description
This issue presents four papers from the 1999 Think-Tank on Fundraising Research. Chapters focus on the language, assumptions, and concepts used in understanding nonprofit enterprise, new research that promises to increase the level of accountability for nonprofit organizations, public accountability, and the importance of trends in religious giving.

This is the 27th issue of the quarterly journal New Directions for Philanthropic Fundraising.
1. Law, Politics, and Charities in the Post-Liberal Era (Peter Dobkin Hall).
2. Nonprofit accountability in the Information Age (Janet S. Greenlee & Richard F. Larkin).
3. Public accountability (James M. Greenfield & Richard F. Larkin).
4. The 800-Pund Canary in Philanthropy's Coal Mine: Trends in Religious Giving (John Ronsvalle & Sylvia Ronsvalle).