Setting Global Standards: Guidelines for Creating Codes of Conduct in Multinational Corporations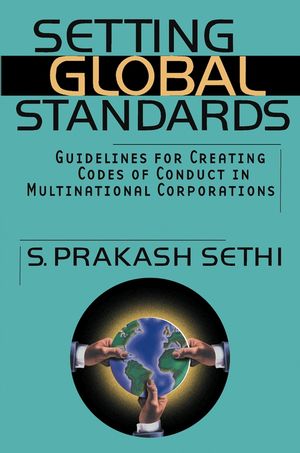 Setting Global Standards: Guidelines for Creating Codes of Conduct in Multinational Corporations
ISBN: 978-0-471-43175-6 April 2003 320 Pages
Description
Learn how large corporations can make real improvements in their standard business practices without jeopardizing their competitiveness in the global marketplace. S. Prakash Sethi, a preeminent business scholar and researcher on the activities of multinational corporations and global business issues, outlines a number of highly effective approaches by which corporate leaders can improve their credibility and ensure the protection of the human and civil rights of their workers across the globe.

Order your copy today!
Preface.
PART ONE: THE ROLE OF MULTINATIONAL CORPORATIONS IN THE CONTEXT OF INCREASING GLOBALIZATION AND FREE TRADE.
Chapter 1. The Blessings and Perils of Globalization: A Tale of Two Peoples.
Chapter 2. Sweatshops and Human Rights Abuses: Evidence from the Field.
PART TWO: MULTINATIONAL CORPORATIONS' RESPONSES TO CHANGE.
Chapter 3. Multinational Corporations' Responses to Public Criticism: Failure of Communications Strategies.
Chapter 4. Corporate Codes of Conduct: Parameters and Analysis.
Chapter 5. Proactive Corporate Responses: Voluntary Codes of Conduct.
PART THREE. GROUP-BASED APPROACHES.
Chapter 6. The Sullivan Principles in South Africa: A Regionwide Approach to Codes of Conduct.
Chapter 7. The United Nations Global Compact: Corporate Leadership in the World Economy.
Chapter 8. The Fair Labor Association: Problems with an Industry-Based Approach to Codes of Conduct.
PART FOUR: CASE STUDIES.
Chapter 9. Nike, Inc.: Missed Opportunities to Effective Code Compliance.
Chapter 10. The Walt Disney Company: A Progressive Approach to Monitoring Compliance.
PART FIVE: NEW APPROACHES TO VIABLE CODES OF CONDUCT.
Chapter 11. Guidelines for Creating Multinational Codes of Business Conduct.
Chapter 12. Independent Monitoring Systems: Transparency in Code Implementation, Compliance, and Verification.
Chapter 13. Mattel, Inc.: Global Manufacturing Principles—A Model Approach to Code Implementation and Independent Monitoring.
PART SIX: LESSONS LEARNED AND UNLEARNED—GUIDELINES FOR THE FUTURE.
Chapter 14. Corporate Social Accountability and International Codes of Conduct: An Assessment.
Bibliography.
Index.