Settle it Out of Court: How to Resolve Business and Personal Disputes Using Mediation, Arbitration, and Negotiation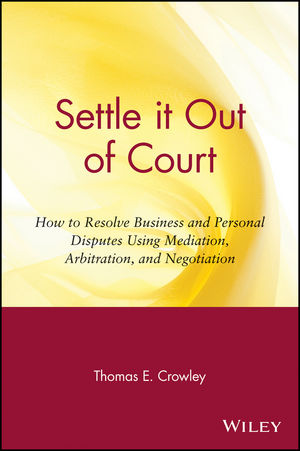 Settle it Out of Court: How to Resolve Business and Personal Disputes Using Mediation, Arbitration, and Negotiation
ISBN: 978-0-471-30634-4 May 1994 256 Pages
Description
An attorney and conflict resolution specialist offers you step-by-step guidance to settling your disputes out of court.... Marital, employer/employee, contract...no matter what your dispute, this lucid and witty how-to guide offers you proven strategies and step-by-step guidance to resolving it fairly, equitably, and without the time and expense of a court trial. Packed with real-life examples and anecdotes and written in plain English, Settle It Out of Court is a valuable, entertaining resource for businesspeople, negotiators, and just about anybody involved in a dispute. Advance praise for Settle It Out of Court.

"...a timely, insightful, practical, and extraordinarily well-written book on how to achieve fair and dignified resolutions of our disputes. Through real-life experiences, well-told anecdotes, and humor, Mr. Crowley provides a step-by-step guide...which is fun to read, easy to understand, and easy to use." Keith Hunter Regional Vice President American Arbitration Association

"...a real gem. It s timely, witty, and it s desperately needed by millions of litigants and their attorneys...should be required reading for every business professional entering into a contract, every parent contemplating divorce, and every supervisor who finds himself or herself sitting opposite an irate employee." Dr. Peter S. Adler, PhD Managing Director, The Accord Group Former Director of the State of Hawaii Center for Alternative Dispute Resolution

"...a rare combination of tremendously useful information conveyed in a simple, witty, readable manner.... For anyone feeling trapped in a dispute, this will be a welcome road map to reaching a fair, fast, and economical resolution while keeping one s sanity intact." James K. Hoenig Arbitrator, mediator, attorney, and psychologist
A Modern Horror Story.

We Have Met the Enemy and He Is Us: How to Turn and Face Our Disputes.

The Power of Ritual: How to Use Ritual to Resolve Our Disputes.

Don't Panic, Plan: How to Brainstorm Our Strategy.

``The Play's the Thing'': How to Use Negotiation to Reach Agreement.

Breaking Impasse: What to Do When We Don't Know What to Do.

You Don't Have to Sue the Tar Out of Everybody: How to Use Mediation to Achieve a Fair Result.

Mopping Up: How to Make a Safe and Sound Settlement Agreement.

No Retreat, No Surrender: How to Use Arbitration to End Your Dispute.

An Officer and a Gentleman: Choosing a Lawyer.

The Higher Road to a Higher Ground: How to Do the Right Thing and Still Win.

Notes.

Index.