Seven Secrets of Inspired Leaders: How to achieve the extraordinary...by the leaders who have been there and done it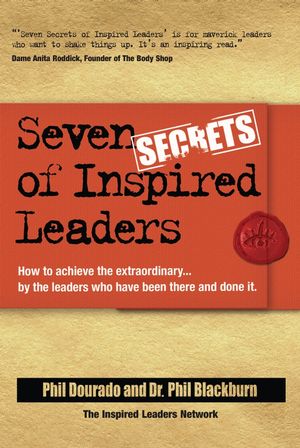 Seven Secrets of Inspired Leaders: How to achieve the extraordinary...by the leaders who have been there and done it
ISBN: 978-1-841-12650-0
May 2005, Capstone
238 pages
Description
Simon Woodroffe, founder, YO! Sushi and a growing empire of YO
"These guys really are the best at what they do: homing in on inspired leaders and coaxing them into sharing how they achieve extraordinary results. Sit up and take notice: There's some powerful mojo at work in this book. And it's a cracking read, too."
Dame Anita Roddick, Founder of The Body Shop
'Business has the power to change the world for the better. But we urgently need more maverick leaders to shake up complacent practices. 'Seven Secrets...' is for maverick leaders who want to shake things up. It's an inspiring read.'
Rene Carayol, co-author, Corporate Voodoo
"This book is not just for reading; it's for living by, thinking by and doing by - it's not for the faint of heart; it's for those who are prepared to lead."
Warren Bennis, Distinguished Professor of Management, University of Southern California, author of On Becoming A Leader and Geeks and Geezers
"A useful and readable account of how some extraordinary business leaders operate outside 'leadership as usual'".
Extraordinary leaders share innovative ideas for achieving extraordinary results. In the face of dramatic change, traditional forms of leadership have become obsolete. Phil Blackburn-cofounder of the Inspired Leaders Network-and business writer Phil Dourado distil the insights of innovative business leaders on their new responses to today's challenges. They show readers how to develop trust and build relationships; create a "Thank God It's Monday!" work culture; focus on distinction rather than competition; deliver a superior customer experience; and lead effectively through change. Full of fresh ideas and practical advice, Seven Secrets of Inspired Leaders will help leaders motivate and align any organization to achieve success.
Buy Both and Save 25%!
Original Price:$50.00
Purchased together:$37.50
save $12.50
Cannot be combined with any other offers.
The Seven Secrets (plus one).
Preface.
Introduction.
Secret 1. Leadership is Viral: Pass it on.
Secret 2. You're not fooling anyone.
Secret 3. They have to want to follow you.
Secret 4. Make a difference.
Secret 5. Lead from the edge.
Secret 6. There's nothing out there.
Secret 7. The impossible isn't.
Conclusion and  Bonus Secret 8: Get an NBA, not an MBA.
Afterword: Who Inspires us?.
Notes.
Index.
"...written in clear and readable English..." (EasyJet magazine, June 2005)
"...corporate leadership is in need of a serious makeover...this bold new book argues for the real issue..." (Online Recruitment, June 05)
"...must-read book.." (The Hindu Online, July 05)
"...Seven Secrets attempts to distil the essence of inspiring leadership for those of us still struggling...this book could radically change your leadership style..." (Reading Chronicle, 28th July 05)
"...The book not only provides light entertainment but is also a serious read full of fresh ideas and practical advice that should sit on the bookshelf of all managers." (Professional Manager, September 05)
"...a thought provoking and fun read...very practical and includes plenty of easy-to-read advice and examples...this book will teach you a great deal about business and management..." (The Times, 22nd September 2005)
"a thought provoking look at leadership" (Management Services, September 2006)