Seven Years to Seven Figures: The Fast-Track Plan to Becoming a Millionaire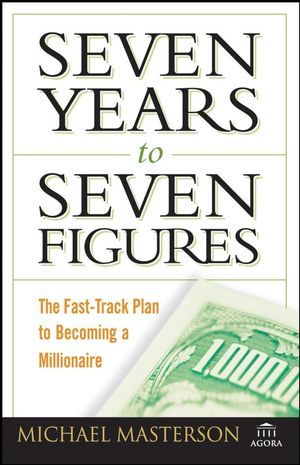 Seven Years to Seven Figures: The Fast-Track Plan to Becoming a Millionaire
ISBN: 978-1-118-42924-2
Jun 2012
247 pages
Description
In Seven Years to Seven Figures, self-made millionaire and renowned wealth coach Michael Masterson reveals the steps you can take to accumulate seven-figure wealth within seven years—or less. Seven Years to Seven Figures will give you the tools to increase your income, get the highest possible returns on investments, save wisely—and secure your financial future faster than you may have ever dreamed.
Acknowledgments.
Foreword by Steve Sjuggerud.
Introduction.
Part I. Seven Years to Seven Figures: Is It Really Possible?
Chapter One. What the Heck Do I know?
Chapter Two. Are You Ready for Wealth?
Part II. Eight Stories, Eight Successes.
Chapter Three. Audrey Maxwell: How a Good Employee Can Become a Great Partner, Build a Dream House, and Become a Millionaire in Seven Years.
Chapter Four. Alan Silver: Converting Selling Skills into Millions of Dollars of Equity in Five Years.
Chapter Five. Bruce Buffer: Giving Up a Six-Figure Income to Generate a Seven-Figure Net Worth.
Chapter Six. Justin Ford: Achieving a Radical Financial Transformation—How to Go from Bankruptcy to Millionaire in Six Years.
Chapter Seven. Ken Morris: Coming to America and Casting in on the American Dream—From $10,000 to $10,000,000.
Chapter Eight. Monica Day: Getting Started—How to Boost Your Income from $26,000 to $134.000 in Two Years.
Chapter Nine. David Keller: You Don't Need a Medical Degree to Make a Million Dollars.
Chapter Ten. Brad Solomon: Even Accountants Can Get Rich—How to Hit $4 Million in Six Years.
Part III. Why You Must Act Now.
Chapter Eleven. The Baby Boomer Challenge: Why 50- and 60-Year-Olds Must Follow the Seven Years to Seven Figures Plan.
Chapter Twelve. Lessons from Life: What I've Learned about Building Wealth Quickly.
Afterword.
Index.