Severe Acute Respiratory Syndrome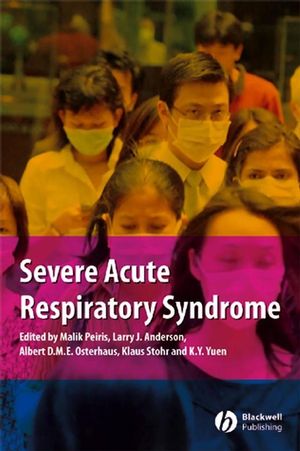 Severe Acute Respiratory Syndrome
ISBN: 978-0-470-75521-1
Apr 2008, Wiley-Blackwell
280 pages
Description
Prompting the first WHO global health alert for over a decade, Severe Acute Respiratory Syndrome (SARS) was first recognised in South-East Asia in February 2003.


With the causative agent now identified as a new strain of coronavirus, the medical world has gained important knowledge on the aetiology, clinical presentation, diagnosis, pathogenesis, epidemiology, disease treatment and infection control with amazing speed.


Despite this, major gaps remain in our understanding - the race is on to develop new cures and effective vaccines, and the long-term impact on health, society and economics are starting to unravel.


Severe Acute Respiratory Syndrome: A Clinical Guide meets the urgent need for a comprehensive, authoritative reference guide for everyone in the medical and scientific community engaged in the fight against SARS:



Definitive book on SARS, clearly and accurately documenting the extraordinary medical and scientific events around this new epidemic

International experts in the field, with many contributors from the WHO and CDC

Will help reader to understand and prevent future outbreaks with a repeat of the same consequences
Contributors, vii.
Foreword, xi.
Acknowledgements, xv.
1 SARS: A Historical Perspective from Hong Kong.
Kwok-yung Yuen and Nan-shan Zhong.
2 SARS: A Global Perspective.
David L Heymann.
3 Clinical Presentation of the Disease in Adults.
JY Sung and Kwok-yung Yuen.
4 SARS in Children.
CW Leung.
5 SARS: Sequelae and Implications for Rehabilitation.
David S Hui and Kenneth W Tsang.
6 Radiology of SARS.
Clara GC Ooi.
7 Aetiology of SARS.
Malik Peiris and Albert DME Osterhaus.
8 Structure of the Genome of SARS CoV.
Paul A Rota, Xin Liu, Byron T Cook and Suxiang Tong.
9 Viral Diagnosis of SARS.
C Drosten, KH Chan and LLM Poon.
10 Pathology and Pathogenesis.
JM Nicholls and T Kuiken.
11 SARS Coronavirus: An Animal Reservoir?.
Yi Guan, Hume Field, Gavin JD Smith and Honglin Chen.
12 Comparative Biology of Animal Coronaviruses: Lessons for SARS.
Linda J Saif.
13 Epidemiology and Transmission of SARS.
Angela Merianos, Robert Condon, Hitoshi Oshitani, Denise Werker and Roberta Andraghetti.
14 Transmission Dynamics and Control of the Viral Aetiological Agent of SARS.
Gabriel M Leung, Anthony J Hedley, Tai Hing Lam, Azra C Ghani, Christl A Donnelly, Christophe Fraser, Steven Riley, Neil M Ferguson and Roy M Anderson.
15 The Seasonality of Respiratory Virus Diseases: Implications for SARS?.
JC de Jong and WL Lim.
16 Public Health Response: A View from Singapore.
Chorh Chuan Tan.
17 Public Health Response: A View from Hong Kong.
T Tsang.
18 Public Health Response: A View from a Region with a Low Incidence of SARS.
James W LeDuc.
19 Infection Control for SARS: Causes of Success and Failure.
WH Seto, PTY Ching and PL Ho.
20 Antiviral Agents for SARS.
Frederick G Hayden and Mark R Denison.
21 Vaccines.
Kanta Subbarao.
22 Counting the Economic Cost of SARS.
YC Richard Wong and Alan Siu.
23 Preparing for a Possible Resurgence of SARS.
Umesh D Parashar, Angela Merianos, Cathy Roth and Larry J Anderson.
24 Lessons for the Future: Pandemic Influenza.
Robert G Webster and David S Fedson.
25 Lessons Learnt.
Albert DME Osterhaus and Malik Peiris.
Appendix.
Index.
Colour plate facing page
""In order to be prepared, those involved in providing microbiological (and virological) diagnostic services, infectious disease clinicians and all
those involved in infection control should ensure that they have ready access to this book. The editors must be congratulated on ensuring that all 25 chapters were produced and edited only three years after the first cases were reported - no mean achievement.""
Journal of Hospital Infection
""The book is a 'must-read' for all infection control nurses involved in planning for pandemic influenza...It is certainly a text I would like to see as an available resource in the local healthcare library.""
British Journal of Infection Control