Severe Dementia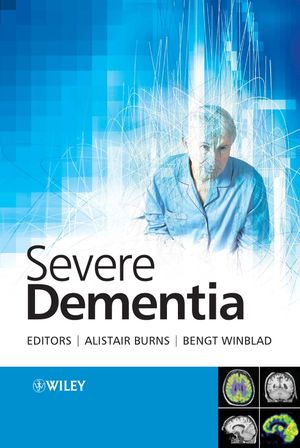 Severe Dementia
ISBN: 978-0-470-01055-6 May 2006 260 Pages
Description
The later stages of dementia are as important, if not more so, as the earlier stages, since they harbour unique characteristics and events, which profoundly affect the lives of patients and their carers. Severe dementia has not had a high profile in the clinical literature as until recently prognosis was poor and there were few beneficial interventions. With the recent licensing of memantine, clinicians finally have a drug option that will delay disease progression. 

Severe Dementia is the first book to focus exclusively on severe dementia. It addresses both the clinical features of the disease and the social aspects of care. Introductory chapters on the differential diagnosis, neurochemistry and molecular pathology of severe dementia set the scene for the clinical discussion. Detailed clinical chapters on cognitive function, depression, physical effects, staging and function follow. All therapeutic interventions are then discussed, including memantine, anticholinesterases, neuroleptics and non-pharmacological treatment. The final chapters review the social and economic aspects of dementia care, including family involvement, person-centered care, palliative care, ethics and health economics.

Written and edited by experts in geriatric psychiatry and geriatrics, Severe Dementia is of value to all clinicians involved in the management of this complex and vulnerable group of patients. It is also of interest to general practitioners and carers in nursing homes.
List of contributors.
Introduction.
PART 1: INTRODUCTORY.
Chapter 1: Assessment and Diagnosis of Severe Dementia (Paul Newhouse and Joseph Lasek).
Chapter 2: Neurochemistry of Severe Dementia (Sally I. Sharp, Paul T. Francis and Clive G. Ballard).
Chapter 3: The Molecular Pathology of Severe Dementia (Clive Holmes).
PART 2: CLINICAL FEATURES OF SEVERE DEMENTIA.
Chapter 4: Cognitive Functions in Severe Dementia (Judith Saxton and François Boller).
Chapter 5: Behavioural and Psychological Symptons of Dementia – Agitation (E. Jane Byrne and Deborah Collins).
Chapter 6: Depression in Severe Dementia (Kate Bielinski and Brian Lawlor).
Chapter 7: Physical Aspects of Severe Alzheimer's Disease (Bruno Vellas).
Chapter 8: Clinical Features of Severe Dementia: Staging (Barry Reisberg, Jerzy Wegiel, Emile Franssen, Sridhar Kadiyala, Stefanie Auer, Liduïn Souren, Marwan Sabbagh and James Golomb).
Chapter 9: Clinical Features of Severe Dementia: Function (Serge Gauthier).
PART 3: MANAGEMENT.
Chapter 10: Drug Treatment: Memantine (Anton P. Porsteinsson and Pierre N. Tariot).
Chapter 11: Drug Treatment: Cholinesterase Inhibitors (Michael Woodward and Howard Feldman).
Chapter 12: Drug Treatment: Treatment of Behavioural and Psychological Symptoms of Dementia with Neuroleptics (Peter Paul De Deyn).
Chapter 13: Non-pharmacological Treatment of Severe Dementia: An Overview (Ross Overshott and Alistair Burns).
Chapter 14: Non-pharmacological Treatment of Severe Dementia: the Seattle Protocols (Rebecca G. Logsdon, Linda Teri and Sue M. McCurry).
Chapter 15: Care by Families for Late Stage Dementia (Steven H. Zarit and Joseph E. Gaugler).
Chapter 16: Person-centred Care for People with Severe Dementia (Murna Downs, Neil Small and Katherine Froggatt).
Chapter 17: Palliative Care in Patients with Severe Dementia (Raymond Koopmans, H. Roeline W. Pasman and Jenny T. van der Steen).
Chapter 18: Narrative Ethics and Ethical Narratives in Dementia (Clive Baldwin).
Chapter 19: Health Economics of Severe Dementia (Anders Wimo and Bengt Winblad).
Index.
""This is an excellent book for those interested in the care of patients with sever dementia."" (Doody's Health Services)