Sewing VISUAL Quick Tips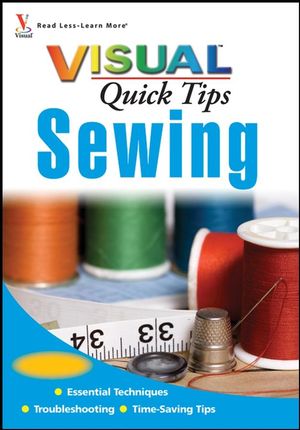 Sewing VISUAL Quick Tips
ISBN: 978-0-470-26216-0
Jan 2009
224 pages
Product not available for purchase
Description
Sewing VISUAL Quick Tips has the answers you need?fast. With detailed color photos and concise instructions, it covers: stocking your sewing box; selecting fabrics; sewing seams and seam finishes; shaping details and finishing techniques; working with stabilizers and lining; placing zippers and fasteners; using patterns; perfecting hand-sewing skills; adding embellishments; hemming garments. This portable, visual guide is packed with straightforward task descriptions, succinct explanations, easy-to-follow instruction, and helpful tips.
Chapter 1: Getting to Know Your Sewing Machine.
New Sewing Machines.
Stitching Options.
Sewing Machine Needles.
Needle Positions.
Buttonhole Options.
Sewing Machine Feet.
The Manual.
Thread the Bobbin.
Place the Bobbin in the Sewing Machine.
Thread the Sewing Machine.
Chapter 2: Getting Ready to Sew.
Basic Sewing Box.
Rotary Cutting Tools.
Scissors.
Marking Fabric.
Pinning.
Basting.
Thread.
Chapter 3: Hand Sewing.
Thread a Needle.
Double or Single Thread.
Knot the Thread.
Hand Basting/Running Stitch.
Backstitch.
Slipstitch.
Catch-Stitch.
Blind Stitch.
Chain Stitch.
Thread Chains.
Buttonhole Stitch/Blanket Stitch.
End Hand Stitches.
Chapter 4: Fabric.
Choose Your Fabric.
How to Buy Fabric.
Bolt End Information.
Selvedge.
Fabric Grain.
Straighten the Grain.
Woven versus Knit.
Fabric Nap and One-Way Designs.
Lace and Sheer Fabrics.
Preshrink Fabric and Notions.
Chapter 5: Lining, Interfacing, and Stabilizers.
Definitions of Inside Elements.
Lining.
Interlining.
Underlining.
Stabilizers.
Interfacing.
Chapter 6: Sewing Seams and Seam Finishes.
Seam Guides.
Test a Seam Guide.
Sewing a Seam.
Press a Seam.
Curved Seams.
Clean Finished Seam.
Zigzag Seam Finish.
Lace Inset Seam.
Add Piping to a Seam.
Sewing Corners.
Easing.
Gathers.
Chapter 7: Shaping Details.
Dart Markings.
Pin and Baste Darts.
Sewing Darts.
Clip Darts.
Bulky and Wide Darts.
Pleats.
Waistbands.
Using Elastic.
Chapter 8: Edge Finishes and Facings.
Prepare a Facing.
Grade Facing Seam Allowances.
Clip Facing Seam Allowances.
Under-Stitching.
Bias Tape.
Bias Tape Facings.
Enclose an Edging with Bias Tape.
Sewing Corners with Bias Tape.
Make Your Own Bias Tape.
Chapter 9: Zippers.
Parts of a Zipper.
Types of Zippers.
Centered Zipper.
Lapped Zipper.
Invisible Zipper.
Shorten a Zipper.
Chapter 10: Fasteners.
Flat Buttons.
Shank Buttons.
Buttonholes.
Sew-On Snaps.
Prong Snaps.
Hooks and Eyes.
How to Sew Hooks and Eyes.
Hook and Loop Tape.
Chapter 11: Hemming Techniques.
Amount of Hem.
Types of Hems.
Mark a Garment Hem.
Turn and Prepare the Hem.
Topstitched Hems.
Invisible Hems .
Machine Blind Hems.
Faced Hems.
Stretchy Hems.
Decorative Hem Additions.
Chapter 12: Using a Purchased Pattern.
Find a Pattern.
Choose Your Pattern Size.
Envelope Information.
Inside the Envelope.
Prepare the Pattern Pieces.
Lay Out the Pattern.
Cut Out the Pattern.
Transfer Pattern Markings.
Chapter 13: Adding Pizzazz.
Flat Felled Seams.
French Seams .
Seam and Edge Additions.
Make Your Own Cording.
Trim with Decorative Stitching.
Sew on Badges or Appliqués.
Special Machines.
Chapter 14: Problem Solving.
Basic Sewing Machine Troubleshooting.
Problems with Stitching.
Clunking Noises.
Separating Fabric.
Difficulties with Threading a Needle.
Pieces that Do Not Fit Together.
Purchase Manuals.
Test the Fiber Content.
Index.