Sex, Literature and Censorship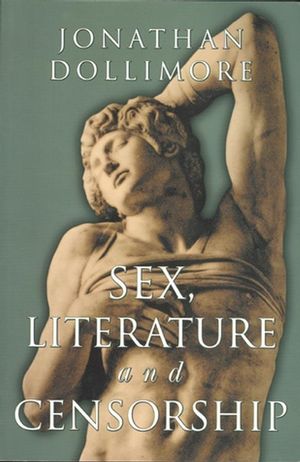 Sex, Literature and Censorship
ISBN: 978-0-745-62764-9 August 2001 Polity 224 Pages
Description
Those who love and live by art, tell us that it is the most exalted expression of civilized life. In this provocative new book Jonathan Dollimore argues that, far from confirming humane values, literature more often than not violates them.
He begins with a polemical and witty attack on the spurious radicalism of some fashionable academic theories about desire and sexual dissidence. Dollimore then examines the ways in which the media, literary critics and the state, as well as these literary theorists, all deny or repress the disturbing and dangerous knowledge conveyed by literature.

His own account of the volatile connections between aesthetics, desire, politics and censorship unfolds through topics such as homosexuality, bisexuality, sexual disgust, and the disturbing relations between art and inhumanity, and through brilliant insights into a wide range of authors including Euripides, Shakespeare, Tennyson and Yeats.

Most persistently, this book is about how the experience of desire in life and art compromises our most cherished ethical beliefs. If this helps make art irresistible and of indispensable value, it follows too that there are reasonable grounds for wanting to censor it.

This compelling and accessibly written book will be essential reading for students and scholars of literary, gender and cultural studies, and will have a major impact on debates about art, sexuality, censorship and the role of the intellectual.
Table of contents
Acknowledgements.
Preface.
Part I: Desire and Theory.
Chapter 1: ' Too Hot For Yale'? The Challenge of Queer Theory.
Chapter 2: The New Bisexuality.
Chapter 3: Wishful Theory.
Chapter 4: Sexual Disgust .
Part II: Dangerous Knowledge.
Chapter 5: Daemonic Desires.
Chapter 6: Dangers Within.
Part III: Desire and Art.
Chapter 7: Those Who Love Art the Most Also Censor it the Most.
Chapter 8: Critical Wars and Academic Censors.
Chapter 9: Shakespeare at the Limits of Political Criticism.
Chapter 10: The Aesthetic Attraction of Fascism.
Chapter 11: Desire: Art Against Philosophy?.
Conclusion.
Notes.
Bibliography.
Name Index.
Subject Index
Reviews
'In his original and exciting new book, Jonathan Dollimore sets out to liberate art from contemporary conservative and radical agendas, both of which, as he brilliantly shows, weaken the power of art by their naive faith in its cultural and moral efficacy. Great literature, like the best psychoanalytic theory, argues for the inevitable conflict between humane values and human desire: if we could agree to trust art less we might begin to accord it the seriousness it deserves.'
Leo Bersani, University of California at Berkeley
'No one grasps more fully than Jonathan Dollimore the challenges, evasions and deceptions in the volatile theorizing of identity and desire, past and present. His brilliant, theoretical synthesis combines with graphic experiential and literary analysis to render Sex, Literature and Censorship never less than enthralling. Erudite, provocative and delightful to read, what more could he do for us?' Lynne Segal, author of Why Feminism?

'Jonathan Dollimore's Sex, Literature and Censorship continues his remarkably resonant inquiry into the darker, defiant regions of the creative imagination. The ethical aim of critical thinking, Dollimore provocatively suggests, requires us to intervene in the corporate consensus of the culture industry, and to resist the pedagogical etiquette of academia. He argues that we must explore the daemonic power of those subjects and objects that offend our tastes and traditions. We applaud and oppose him, following the dialectical destiny of dissidence to which he has skilfully introduced us.' Homi K. Bhabha, Harvard University

'[A] feverish, political polemic.' Steven Poole, The Guardian

'Dollimore speaks an important truth when he suggests that some of the most compelling literature, past and present, hinges on the tension between, if not the incompatibility of, "the ethical conscience and the creative imagination".' The Independent

'Looking at the contradictions of identity-based sexual politics movements, [Dollimore] examines the ethics of knowledge and practice that circulate around ideas of danger - dangers to the self, dangerous knowledge - connecting these with questions posed by art as a site of danger in itself.' Radical Philosophy

'Sex, Literature, and Censorship is a book worth reading; it says provocative things we will ponder long after setting it down' Times Literary Supplement

'Biographical and autobiographical anecdote are one of the chief amusements of this book. Dollimore tells us of his first gay affair, his subsequent relationship with a woman, his particular sexual preferences. It is calculated to shock, performing the dissidence it preaches. Indeed, if I have criticism of the book, it is that it has nothing to say about the tenderness of sexual desire, but that probably reveals precisely how unradical i am.' Times Higher Education Supplement
Features
* A provocative new book by one of the leading figures in literary studies
* A brilliant contribution to the political criticism of literature and to theories of sexuality
* A compelling and accessible exploration of the disturbing power of literature