Sex and Death: A Reappraisal of Human Mortality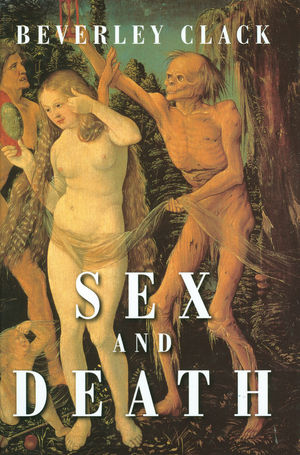 Sex and Death: A Reappraisal of Human Mortality
ISBN: 978-0-745-62278-1 November 2002 Polity 168 Pages
Description
For centuries people have debated the nature of the human self. Running beneath these various arguments lie three certainties – we are born, reproduce sexually, and die. The models of spirituality which dominate the Western tradition have claimed that it is possible to transcend these aspects of human physicality by ascribing to human beings alternative traits, such as consciousness, mind and reason. By locating the essence of human life outside its basic physical features, mortality itself has come to be viewed as a problem, for it appears to render human life both meaningless and absurd. Complex connections have then been made between the key features of life: sex is linked with death, and birth becomes the event that introduces the child to the world of decay – and ultimately to death itself.
This fascinating book exposes the way in which the preoccupation with transcendence in both religious and secular thinking has distorted our sense of what it is to be human. At the same time, Sex and Death offers an alternative approach to the debate, based on an acceptance of mortality that emphasizes the depth and profundity possible in human life. It is an argument which will be essential reading for students of philosophy or religion, as well as the general reader interested in these debates.
Table of contents
Acknowledgments.
Introduction.
Chapter 1: Transcending Mortality: Plato's Philosophy and Augustine's Theology.
Chapter 2: Transcending the Void: Sex and Death in Sartre and Beauvoir's Existentialism.
Chapter 3: Eros, Thanatos and the Human Self: Sigmund Freud.
Chapter 4 : Sex and Death in a Meaningless Universe: The Marquis de Sade.
.
Chapter 5: Living in Accordance with Nature: Seneca.
Conclusion: Sex, Death, and the Meaningful Life.
Notes.
References and Bibliography.
Index.
Reviews
"...[T]his book is passionate and temperate, thoughtful and bold. It is also beautifully written and a pleasure to read."
Esther Reed, Reviews in Religion and Theology
"All of us were born; all of us will die; all of us are sexual. Beverley Clack's new book takes an intelligent and thought-provoking look at these basic human realities, showing how spiritual meaning and physical reality conjoin. It is a wide-ranging and carefully argued book that makes unexpected and imaginative connections. It is also a book of compassionate humanity." Grace M. Jantzen, University of Manchester

"Western accounts of the best human life have usually pictured masculine reason and will as battling to transcend and escape from nature, sex and death, and have been marked by a weirdly negative attitude especially for the female reproductive apparatus. Beverley Clack rejects that whole tradition and instead sees the good life as growing out of an acceptance of the body, transience, sex and death. She boldly tackles, not just Augustine and Freud, but also Sade, head-on. This is a vigorous and enjoyable study, and (of course) she's right." Don Cupitt, Emmanuel College, Cambridge

"This is an engaging and thoughtful piece of work, convincing in its own terms"Elizabeth Stuart, Theology

"...it [the book] leads readers to engage philosophically with arguments that have the potential to change their fundamental attitudes" Stan van Hooft, Philosophy in Review
Features


Systematic exploration of the puzzling relationship between sex and death


Examines the views of a wide range of authors, including Plato, Augustine, Seneca, the Marquis de Sade, Freud, Sartre and de Beauvoir



Develops a fresh perspective on sex and death as the basis for an alternative understanding of meaningful life