Sexology in Culture: Labelling Bodies and Desires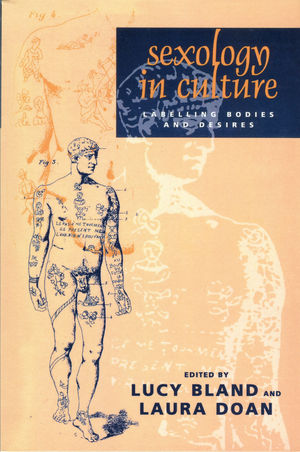 Sexology in Culture: Labelling Bodies and Desires
ISBN: 978-0-745-61983-5 October 1998 Polity 248 Pages
Download Product Flyer
Download Product Flyer
Download Product Flyer is to download PDF in new tab. This is a dummy description. Download Product Flyer is to download PDF in new tab. This is a dummy description. Download Product Flyer is to download PDF in new tab. This is a dummy description. Download Product Flyer is to download PDF in new tab. This is a dummy description.
Description
Sexology in Culture
examines the impact of key writings by sexologists on English-speaking culture from the 1880s to the early 1940s. How influential a field was sexology during this period, and how much power did sexologists wield? What was the impact of their work on popular and official attitudes to sex?
In this volume, Lucy Bland and Laura Doan have brought together leading historians of sex, cultural and literary critics, and scholars in gay, lesbian and queer studies, to reassess current debates on sexology in light of its history. Issues addressed include the relation of "sexual science" to the law, government policy, journalism, eugenical programmes, marriage and sex manuals, and literary representation. Other chapters map out new readings of transsexuality and bisexuality, and the centrality of race within sexological discourse.
This book will be of interest to all those concerned with understanding modern sexual discourse in its historical context, and will be essential reading for researchers, teachers, and students interested in the history and study of sex.
Table of contents
List of Contributors.
Introduction: Rita Felski.
Part I. A Dangerous New Science.
1. Transformations: Subjects, Categories and Cures in Krafft-Ebing's Sexology: Merl Storr.
2. It's What You Do With It That Counts: Interpretations of Otto Weininger: Judy Greenway.
3. The Hidden Romance of Sexual Science: Eugenics, the Nation and the Making of Modern Feminism: Carolyn Burdett.
4. Scientific Racism and the Making of the Homosexual Body: Siobhan Somerville.
Part II. Labelling Bodies. .
5. Symonds's History, Ellis's Heredity: Sexual Inversion: Joseph Bristow.
6. 'Educating the Eye': The Tattooed Prostitute: Jane Caplan.
7. Transsexuals and the Transsexualists: Inversion and the Emergence of Transsexual Subjectivity: Jay Prosser.
Part III. Constructing Desires.
8. Feminist Reconfigurations of Heterosexuality in the 1920s: Lesley Hall.
9. Sex, Love and the Homosexual Body in Early Sexology: Suzanne Raitt.
10. Havelock Ellis, Sigmund Freud and the State: Discourses of Homosexual Identity in Interwar Britain: Chris Waters.
Part IV. Cultural Perversions. .
11. Trial by Sexology?: Maud Allan, Salome and the 'Cult of the Clitoris' Case: Lucy Bland.
12. 'Acts of Female Indecency': Sexology's Intervention in Legislating Lesbianism: Laura Doan.
13. 'Sex is an Accident': Feminism, Science and the Radical Sexual Theory of Urania 1915-1940: Alison Oram.
Index.
Reviews
"This book throws important new light on our understanding of the cultural role of sexology, the would-be 'science of desire', in shaping ideas of sexuality during the twentieth century. The individual essays are compelling and enjoyable, while the volume as a whole shows the complexity of the sexological endeavour: constitutive and enabling, liberal and conservative, marginal at first and yet vital in the shaping of modern sexual discourses."
Professor Jeffrey Weeks, South Bank University, London
"This fascinating collection is a vital addition to our knowledge of sexual theory and its consequences." Professor Sheila Rowbotham, University of Manchester and author of A Century of Women

"Sexology in Culture will surely come to be seen as a milestone." Times Literary Supplement

"The reader gets a rich flavour of source material alongside incisive critical analysis; a productive combination for student, academic and general reader." The Times Higher Education Supplement

" Sexology in Culture is an excellent collection of the kind of focused studies that have made the history of sexuality such a dynamic research field in recent years.an admirable collection – informative, well-organized and intellectually stimulating" Chandak Sengoopta, University of Manchester, Medical History
Features
* Sets out and assesses the work of famous sexologists as well as the cultural context and impact of their work.
* Contributions from a range of scholars in different disciplines which gives the volume a true interdisciplinary appeal.
* Individual chapters outline a broad range of critical methodologies.