Sexual Murderers: A Comparative Analysis and New Perspectives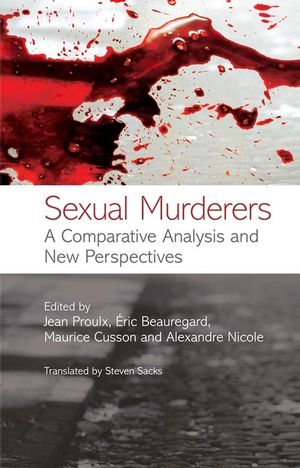 Sexual Murderers: A Comparative Analysis and New Perspectives
ISBN: 978-0-470-05954-8 May 2007 274 Pages
Description
Little is known about Sexual Murderers – those who kill in a sexual context. Recent studies have compared their backgrounds and characteristics with that of rapists and/or violent (non-sexual) offenders. This translation of a French original by the renowned Jean Proulx challenges existing knowledge on sexual murders, offers new tools for profiling and interrogation, and helps to establish a new research base. Current theories of sexual murder, its prevalence, reasons including attachment theories, profiling and interrogation techniques are all addressed in Proulx's distinctive, thought-provoking style.
List of Figures.
List of Tables.
About the Editors.
List of Contributors.
Preface.
Acknowledgements.
Introduction.
Sexual Murderers: Myth and Reality.
PART I: THE MONTREAL STUDY.
Chapter 1. Sexual Murder: Definitions, Epidemiology and Theories.
Chapter 2. Sexual Murderers and Sexual Aggressors: Developmental Paths and Criminal History.
Chapter 3. Sexual Murderers and Sexual Aggressors: Psychopathological Considerations.
Chapter 4. Sexual Murderers and Sexual Aggressors: Intention and Situation.
Chapter 5. The Factors Distinguishing Sexual Murderers from Sexual Aggressors: A Multivariate Analysis.
Chapter 6. Serial Killers and Sexual Murderers.
Chapter 7. Sadistic Sexual Offenders.
Chapter 8. Angry or Sadistic: Two Types of Sexual Murderers.
Chapter 9. The Motivation and Criminal Career of Sexual Murderers.
PART II: THE BIRMINGHAM STUDY.
Chapter 10. A Comparison of Rapists and Sexual Murderers on Demographic and Selected Psychometric Measures.
Chapter 11. Identification of Motivations for Sexual Murder.
PART III: PRACTICAL ISSUES.
Chapter 12. The Role of Profiling in the Investigation of Sexual Homicide.
Chapter 13. Psychotherapeutic and Psychodynamic Issues with Sexual Murderers.
Conclusion.
References.
Index.