Sexuality and Gender in the Classical World: Readings and Sources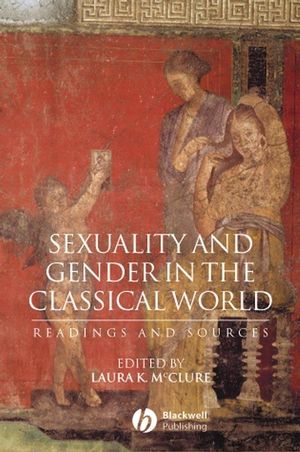 Sexuality and Gender in the Classical World: Readings and Sources
ISBN: 978-0-470-75553-2
Apr 2008, Wiley-Blackwell
336 pages
Product not available for purchase
Description
This volume provides essays that represent a range of perspectives on women, gender and sexuality in the ancient world, tracing the debates from the late 1960s to the late 1990s.
List of Illustrations.
Preface.
Acknowledgments.
Editor's Introduction.
Part I: Greece.
1. Classical Attitudes to Sexual Behaviour. (K. J. Dover).
Source: Aristophanes' Speech from Plato, Symposium 189d7-192a1.
2. Double-Consciousness in Sappho's Lyrics. (J. J. Winkler).
Sources: Sappho 1 and 31; Homer, Iliad 5.114-132; Odyssey 6.139-85.
3. Bound to Bleed. Artemis and Greek Women. (H. King).
Excerpts: Hippocrates, On Unmarried Girls; Euripides, Hippolytus 59-105.
4. Playing the Other: Theater, Theatricality, and the Feminine in Greek Drama. (F. Zeitlin).
Sources: Sophocles, Women of Trachis 531-587, 1046-1084; Euripides, Bacchae 912-944.
Part II: Rome.
5. The Silent Women of Rome. (M. I. Finley).
Sources: Funerary Inscriptions: CE 81.1-2, 158.2, 843, 1136.3-4; ILS 5213, 8402, 8394; CIL 1.1211, 1.1221, 1.1837.
6. The Body Female and the Body Politic. Livy's Lucretia and Verginia. S. R. Joshel.
Sources: Livy, On the Founding of Rome, 1.57.6-59.6.
7. Mistress and Metaphor in Augustan Elegy.(M. Wyke).
Excerpts: Propertius, 1.8a-b and 2.5; Cicero, In Defense of Marcus Caelius 20.47-21.50.
8. Pliny's Brassiere.
Source: Pliny, Natural History 28.70-82.
Part III: Classical Tradition.
10. "The Voice of the Shuttle Is Ours." (Patricia Klindienst).
Source: Ovid, Metamorphoses 6.424-623.
Bibliography.
Index


Explores the fascinating world of sex and gender roles in the classical period.


Accessible to general readers whilst encouraging them to confront new theories and methodologies, and contemporary assumptions about gender and sexuality.


Provides teachers with a means of introducing theoretical readings of ancient sources to undergraduates.


Gives a general overview of the history of gender studies in classics.


Includes primary sources to enable readers to engage with the evidence themselves.


Covers not only women in antiquity, but also masculinity and sexuality.