Sexuality and the Christian Body: Their Way into the Triune God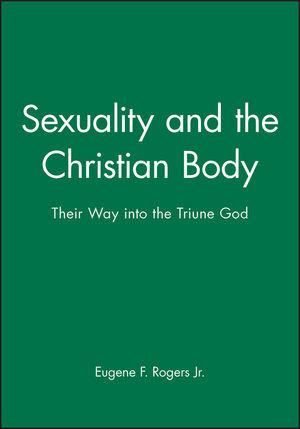 Sexuality and the Christian Body: Their Way into the Triune God
ISBN: 978-0-631-21070-2 August 1999 Wiley-Blackwell 316 Pages
Description
God and the Body addresses the challenges to traditional Christianity by gay and lesbian Christians and their critics within the church. This controversial book will be welcomed for the radical new insights it provides into Christian arguments about the body.
Acknowledgments.
Introduction.
Part I: Orientation in the Debates: Sexuality and the People of God.
1. The Politics of the People of God.
2. The Identity of the People of God. Contrary to Nature.
3. The Holiness of the People of God: Monogamy and Monasticism.
Part II: Retrieving Traditional Accounts: Aquinas and Barth.
4. The Storied Context of the Vice against Nature: Retrieving a Narrative.
5. Nature and Justice when Science and Scripture Conflict: Retrieving a Narrative. 6. Karl Barth on Jews and Gender: A Preliminary Critique.
7. Unintended Abstraction in Barth's Doctrine of Israel: Retrieving a Doctrine of the Spirit.
8. Unintended Abstraction in Barth's Account of Gender: Retrieving Co-Humanity.
Part III: The Way of the Body into the Triune God.
9. Creation, Procreation, and the Glory of the Triune God.
10. Eros and Philanthropy.
11. The Shape of the Body and the Shape of Grace.
12. Hostility and Hospitality.
13. The Narrative of Providence and a Charge for a Wedding.
Bibliography.
Index.
"This is the most sustained, serious and original theological work on sexuality and in particular same-sex relationships to have appeared for many years. As in Barth, thoughtful, theological conservations lead to a radical and liberating stance. This book may well turn a debate that often is no more than the marshalling of untheological prejudices in a constructive and responsible direction."
Duncan B. Forrester, University of Edinburgh
"Both sides of the gay marriage debate will benefit from this startlingly original and theologically rich treatment of the graced body. Here are Christian traditions not slavishly reproduced but put to a genuinely radical use." Kathryn Tanner, University of Chicago

"Eugene Rogers has produced a serious and illuminating study of the controversial issue of sexuality that can be read with profit by all sides in this sometimes bitter debate......Rogers has written an important book that deepens our understanding of marraige as well as contributing to the current debate on sexuality."Bishop Paul Richardson

"This is an unusual, challenging and important book, which makes a powerful theological case for same-sex marriage...The main strength of the book lies, however, in its uncompromising engagement with Paul's letter to the Romans and the twin ethical discourses, natural law and divine command, that locate evil in homosexual activity." Modern Believing

"This is an extremely good book. Rogers's argument...is theologically informed, carefully constructed and powerfully presented at every turn. It should be widely read, for there is much of great value." Stephen R. Holmes, Journal of Theological Studies

"This is a work of some theological richness, subtlety and scope, which is - for that very reason - notably free from the familiar dogmatisms and polemicizing that cloud the debate on homosexuality. It is tempting to conclude that, if there is a serious theological case to be made for same-sex marriage, this is it." Studies in Christian Ethics

"This study deserves the careful attention of anyone who is interested in identifying and understanding the foundations on which a biblically-informed Christian sexual ethic must rest." Pro Ecclesia

"Sexuality and the Christian Body shows a young theologian at work on a central dilemma of our day, a Christian who brings to his vocation scholarly rigor, moral and intellectual imagination, and, supremely, great theological passion. These are great gifts, and we can look forward eagerly to more." Theology Today<!--end-->
* Takes on one of the most controversial contemporary theological issues.
* Provides new insights into Christian arguments about the body, focusing on homosexuality.
* Offers constructive arguments for the fittingness in the Christian tradition of marriage-like homosexual relationships.