Shake That Brain: How to Create Winning Solutions and Have Fun While You're At It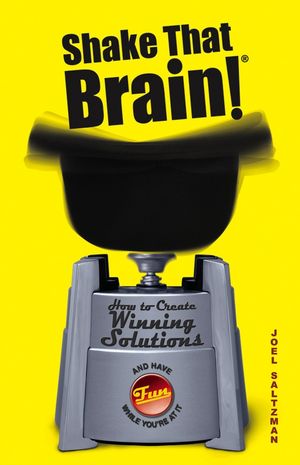 Shake That Brain: How to Create Winning Solutions and Have Fun While You're At It
ISBN: 978-0-471-74210-4 February 2006 240 Pages
Description
Joel Saltzman teaches readers how to create ""surprising, yet inevitable"" solutions, no matter the challenge or task at hand. Easily. Consistently. And economically.

Shake That Brain! is a collection of creative and inspiring tips and tools for finding solutions in a variety of areas-from sales, marketing, and product creation to ethics, innovation, and the bottom line. Backed by powerful and compelling examples from a wide variety of real-life applications, Joel Saltzman delivers energy, edge-and lots of fun-as he guides readers through a series of proven formulas for creating outstanding solutions, from harnessing the power of opposite thinking to turning your worst ideas into your best ideas ever. Filled with exercises, easy-to-apply formulas, entertaining pop-quizzes, and eye-opening teaching examples from the world of business, technology, advertising, and more, here's a solution-finding guidebook that can be used for succeeding on the job or at home.

Joel Saltzman is a professional speaker, consultant, and bestselling author. He has conducted Shake That Brain! programs for Grey Advertising International, Harley Davidson, the U.S. Department of the Treasury, and Warner Bros. Studios. His work has been called ""witty and rewarding"" by People Magazine and he's the recipient of a national Audie award for ""Best Educational and Training Audio."" His website is www.shakethatbrain.com
Introduction.
Part One: Attitude – Or – How to Prepare Your Brain for "New and Improved" Behavior.
1: Be DARING.
2: Be PREPARED.
3: Be OPTIMISTIC.
4: Learn That MISTAKES Are GREAT.
5: Have FUN with It.
6: Don't Feel Like a NINCOMPOOP.
Part Two: Actions – Or – How to Shake Those New Ideas Loose.
7: Question Your ASSUMPTIONS.
8: Ask GOOD Questions.
9: Take an "OPPOSITES" Approach.
10: Never Take NO for an ANSWER.
11: Look for ELEGANT Solutions.
12: Try Some EMPATHY.
13: Look for the WORST Solution Possible.
14: Turn Your NEGATIVES into POSITIVES.
15: Ask Yourself, "What Can I IMITATE?"
16: Ask Yourself, "What Would _______ DO? "
17: Ask STRANGERS for Help.
18: Never Take YES for an ANSWER.
19: WRITE It Down!
20: Walk AWAY from It.
Part Three: Selling – Or – How to Avoid Having to Scream, "Why doesn't anyone get this great idea that could just win a Nobel Prize!?"
21: Sell It to YOU.
22: Sell It to OTHERS.
23: BUILD It.
24: Demonstrate Its Value with P.O.P.
25: Get SUPPORT for It.
26: Call It Something CATCHY.
27: Be PERSISTENT.
28: KEEP Having FUN with It.
Notes.
About the Author.
Index.