Shakespeare For Dummies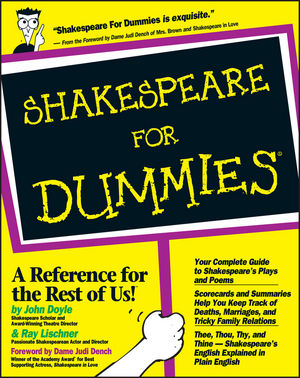 Shakespeare For Dummies
ISBN: 978-0-764-55135-2
Apr 1999
384 pages
Product not available for purchase
Description
"Shakespeare For Dummies is exquisite."
—from the Foreword by Dame Judi Dench, star of "Mrs. Brown" and "Shakespeare in Love"

"What the film Shakespeare in Love has done to make Shakespeare the man accessible to a general audience, this book will do to make Shakespeare the writer enjoyable."
—Charlotte J.Headrick, PhD, Professor and Director, Theater Arts, Oregon State University

Does the thought of sitting through A Midsummer Night's Dream give you nightmares? Did Romeo and Juliet seem like a foreign film—without the subtitles? As John Doyle and Ray Lischner prove in this uniquely accessible guide, Shakespeare is not only the greatest writer who ever lived, he's also a great entertainer—once you get a handle on his wild plots and witty wordplay. Under their guidance, you'll:
Go inside an Elizabethan theater—and find out how they managed with almost no seats, no roof and no women onstage
Get a handle on Shakespeare's language—including all those racy puns and jokes
Maximize your enjoyment of his plays and poetry
Identify contemporary idioms and phrases that come from Shakespeare's plays
Find Shakespeare festivals and performances in your area
Catch ten of the best show ever made of the Bard's plays and meet ten of the greatest Shakespearean actors of all time
In simple, straightforward language, this friendly guide eases you into the wild, wonderful world of Shakespeare. With the help of snappy summaries and scorecards that help you keep track of who's who, who's in love with whom, and who's killed whom in every play, it helps you:
Understand Shakespeare the person, his life and times and what makes him so special
Make sense of Shakespearean language and why it sounds the way it does
Get the inside track on the kinds of stories, characters and settings found in Shakespeare's plays
Appreciate Shakespeare's sonnets and other non-dramatic poetry
A royal feast for the head and heart, Shakespeare's works have been thrilling audiences for four centuries, as they will four hundred years from now. Now let Shakespeare For Dummies help you to enjoy one the world's great literary treasures.
Foreword.

Introduction.

PART I: What Makes Shakespeare Special.

Chapter 1: Meet William Shakespeare.

Chapter 2: Will's World.

Chapter 3: Shakespeare in the Modern World.

PART II: You Call That English?

Chapter 4: Why Does Everyone Talk So Funny?

Chapter 5: Did You Hear the One About . ?

Chapter 6: How to Read Shakespeare's English.

PART III: The Play's the Thing.

Chapter 7: Once Upon a Time.

Chapter 8: Shakespeare's People: Characters, Actors, and Audiences.

Chapter 9: Use Your Imagination.

Chapter 10: Reading a Play.

Chapter 11: At the Theater.

PART IV: Scorecards and Summaries.

Chapter 12: Keeping Score.

Chapter 13: Comedies.

Chapter 14: Histories.

Chapter 15: Tragedies.

PART V: The Other Poems.

Chapter 16: All About the Sonnets.

Chapter 17: Narrative and Other Poems.

PART VI: The Part of Tens.

Chapter 18: The Ten Best Places to Watch Shakespeare's Plays.

Chapter 19: Ten Everyday Phrases from Shakespeare.

Chapter 20: The Ten Greatest Shakespearean Performers.

Chapter 21: Ten Films and Shows Based on Shakespeare's Plays.

Index.

Book Registration Information.