Shakespeare and Music: Afterlives and Borrowings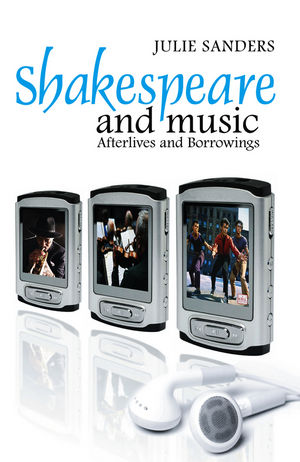 Shakespeare and Music: Afterlives and Borrowings
ISBN: 978-0-745-65765-3 April 2013 Polity 248 Pages
Description
This is a study of the rich and diverse range of musical responses to Shakespeare that have taken place from the seventeenth century onwards. Written from a literary perspective, the book explores the many genres and contexts in which Shakespeare and his work have enjoyed a musical afterlife discussing opera, ballet, and classical symphony alongside musicals and film soundtracks, as well as folk music and hip-hop traditions.

Taking as its starting point ideas of creativity and improvisation stemming from early modern baroque practices and the more recent example of twentieth-century jazz adaptation, this volume explores the many ways in which Shakespeares plays and poems have been re-worked by musical composers. It also places these cultural productions in their own historical moment and context.

Adaptation studies is a fast emerging field of scholarship and as a contribution to this field, Shakespeare and Music: Afterlives and Borrowings:





develops theories and practices from adaptation studies to think about musical responses to Shakespeare across the centuries


brings together in an exciting intellectual encounter ideas and methodologies deriving from literary criticism, theatre history, film studies, and musicology


explores music in its widest context, looking at classical symphonies including the work of Berlioz and Elgar and operas by Verdi and Britten as well as Broadway musicals, film scores by Shostakovich, Walton, and contemporary performers, and the jazz adaptations of Duke Ellington and others.
This is a timely study that will appeal to a wide readership from lovers of Shakespeare and classical music through to students of film and historians of the theatre.
Acknowledgements viii
Prelude 1
1 'All That Jazz': Shakespeare and Musical Adaptation 11
2 Classical Shakespeares 29
3 'Shall we dance?': Shakespeare at the Ballet 59
4 'Shakespeare with a contemporary musical twist' 73
5 Shakespeare in the Opera House 96
6 Giuseppe Verdi and Benjamin Britten:
Case Studies in Shakespearean Opera 112
7 Symphonic Film Scores 135
8 'You know the movie song':
Contemporary and Hybrid Film Scores 159
9 Contemporary Music and Popular Culture 182
Coda 194
Glossary of Musical Terms 198
Bibliography 202
Discography 214
Filmography 219
Index 221
"
Shakespreare and Music
is about afterlives, in quotations, borrowings, citations, adaptations, all of it after Shakespeare's own lifetime. It is also about reception and interpretation, re-imagining, appropriation, in Verdi of course, Tchaikovsky, Liszt, and then on contemporary films, Duke Ellington, Billy Strayhorn. This is at once a learned book, an original contribution to learning, and a story that lovers of Shakespeare and music will enjoy and profit from. It is a real success: gracefully written, elegant, intelligent, witty."
David Bevington, University of Chicago


A novel and exciting exploration of musical adaptations of Shakespeare from the seventeenth century to the present day

Discusses opera, ballet, and classical symphony alongside musicals and film soundtracks, as well as folk music and hip-hop traditions

Will have interdisciplinary appeal: the book brings together approaches from literary criticism, theatre history, film studies and musicology

Will appeal to a wide readership from lovers of Shakespeare and classical music through to students of film and historians of the theatre