SharePoint 2013 Branding and UI Book and SharePoint-videos.com Bundle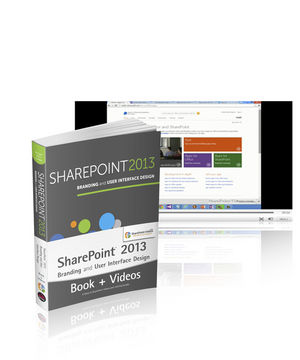 SharePoint 2013 Branding and UI Book and SharePoint-videos.com Bundle
ISBN: 978-1-118-81905-0
Nov 2013
456 pages
Product not available for purchase
Description
The SharePoint 2013 Branding and UI Design and SharePoint-videos.com Bundle represents a unique collaboration between SharePoint content leaders.
The bundle features the best-selling Wrox book SharePoint 2013 Branding and User Interface Design (978-1118495674) - now in full color -- and several complementary branding and design videos from the renowned SharePoint-videos.com. All based on SharePoint 2013, the book and videos bring readers of all experience levels, including traditional web designers, into the world of creating beautiful and engaging SharePoint sites. Keeping with the theme of good design, the book itself was designed to be visually appealing, featuring vivid full color content laid out in a unique and engaging fashion.  The package includes:
Site level branding for Team Sites
Publishing page customizations
Site level branding for publishing sites
Tools and options for SharePoint 2013 Branding
Modifying Master pages
Creating Publishing page layouts
Adding javascript interactions to sites
Adding complex interactions to sites
Packaging branding as a SharePoint App
About SharePoint-videos.com
SharePoint-Videos.com (SPVideos) is focused on empowering information workers in corporate environments with the SharePoint knowledge they need to be successful. Their goal is ensuring sustainable SharePoint adoption through education and support.
SPVideos provides the following business solutions: Asif Rehmani has been training and consulting on SharePoint technologies since 2002. He is a SharePoint Server MVP and MCT. He has written SharePoint curricula, several books for Wrox, and dozens of SharePoint articles. He has produced hundreds of video tutorials on SharePoint, many available at Microsoft TechNet, MSDN, Channel 9, Office.com, YouTube and SharePoint-Videos.com. Asif has presented at conferences globally including Microsoft's TechEd, SharePoint Conference, SPTechCon, and SharePoint Connections. His clients include Caltech, Fidelity.com, Federal Reserve Bank of New York, Lockheed Martin, Symantec, Autodesk, and Raytheon