Shared Care Glaucoma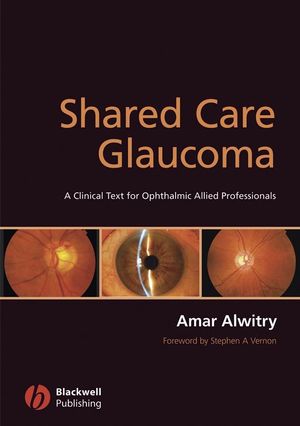 Shared Care Glaucoma
ISBN: 978-1-444-30933-1 March 2009 Wiley-Blackwell 264 Pages
Description
Shared Care Glaucoma provides concise, clear and user-friendly information for the non-ophthalmologist caring for glaucoma patients. It would also be an ideal text for ophthalmic trainees learning about glaucoma management and for generalist ophthalmologists who want to refresh their approach to their glaucoma care.


The book covers the aetiology, classification, diagnosis and management of glaucoma under the four key sections: About Glaucoma, Detecting Progression, Treating Glaucoma and Specific Glaucoma Entities, enabling the reader to comfortably manage glaucoma patients and offering guidance on when they should refer, and to whom. Frequently asked questions are anticipated and logical responses given, supported by evidence from recent literature. That there are often no clear right and wrong decisions within many individual's glaucoma management plan is well recognised and conveyed.
1. Introduction.
Section 1: About Glaucoma.
2. Epidemiology and Risk Factors For Glaucoma.
3. Genetics.
4. The Pathophysiology of Glaucoma.
5. Anterior Segment Examination.
6. Assessing The Angle.
7. Evaluation of the Optic Nerve Head.
8. Imaging Technology in the Assessment of the Optic Disc and Retinal Nerve Fibre Layer.
9. The Intraocular Pressure.
10. Central Corneal Thickness and the IOP.
11. Evaluating the Visual Field.
12. Other Perimetry Devices.
Section 2: Detecting Progression.
13. Identifying Progressive Visual Field Loss.
14. Identifying Progressive Morphological Change.
Section 3: Treating Glaucoma.
15. Target IOP.
16. Glaucoma Medications.
17. Management Protocols.
18. Surgery and Laser Treatment for Glaucoma.
19. Compliance.
Section 4: Specific Glaucoma Entities.
20. Normal Tension Glaucoma.
21. Secondary Open Angle Glaucoma.
22. Primary Angle Closure.
23. Secondary Angle Closure.
24. Steroid Induced Glaucoma.
25. Landmark Studies.
Appendices


Illustrated in full colour throughout.


Aimed at the multi-professional team.