Sharing Hidden Know-How: How Managers Solve Thorny Problems With the Knowledge Jam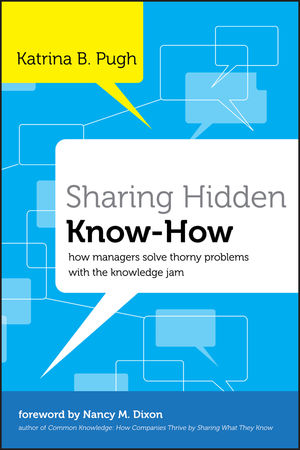 Sharing Hidden Know-How: How Managers Solve Thorny Problems With the Knowledge Jam
ISBN: 978-1-118-01093-8 March 2011 Jossey-Bass 272 Pages
Description
To manage business operations – let alone innovate – amid frequent restructurings, outsourcings and retirements, leaders must
quickly
capitalize on hidden know-how (knowledge). That is, know-how that lives inside their organizations or networks – in the teams, processes and experts that comprise them.
Yet, many organizations are coming up short in this race. Knowledge sharing and transfer have been reduced to reports, e-mails and tweets replacing vital personal interaction. The lack of meaningful conversation coupled with intense fragmentation across organizations and networks has left leaders floating in a sea of information and ideas without a map to channel insight into action.
Sharing Hidden Know-How starts the conversation that allows organizations to take what they know to the bank. The "how-to"/"how-act" guidebook unveils Knowledge Jam, a facilitated collaborative method for helping organizations rediscover the fundamental discipline of knowledge transfer – the conversation.
Developed by Katrina Pugh, president of AlignConsulting, the proven process uses human interaction to capture unwritten insights, and more importantly to put them to work. Offering a step-by-step process and practical tools, Sharing Hidden Know-How will help any organization harness untapped knowledge to solve today's thorny problems:
Accelerating New Product Development and Market and Segment Innovations
Maximizing Combined Knowledge in Mergers Integrations, Restructurings, Off-shoring and Outsourcing
Overcoming Information Overload (Focus on Social Media)
Smoothing Executive Transitions and Succession Planning
Smoothing Team Transitions
Spreading Insight across Geographies and Network Partners
Tapping into Sales Insights
The next generation of leadership effectiveness is about conversation and reflective facilitation, not just texts and tweets. Sharing Hidden Know-How makes the case for intentional, conversation-based leadership, and provides the practice model to pull it off.  Viewed from above, this important book is itself a conversation between Kate Pugh's basic propositions and those of a diverse group of other thinkers, all woven into a unified whole. Viewed on the ground, it is an intellectual joyride, coherent, insightful, promisingly pragmatic, and with just the right measure of the personal to fully reveal a fruitful mind in motion.
— David Kantor, director, Kantor Institute; author, Reading the Room (Jossey-Bass, 2012)
"[This] book addresses one of the time-honored problems in organizations: 'How do you get people with experience, solutions and knowledge to share them effectively with those who need those valuable assets?' Technology, we now know, is not the answer—human discus­sion is. [Pugh] tells you how to structure and facilitate these important conversations."
—Thomas H. Davenport, President's distinguished professor of IT and Management, Babson College; author of Analytics at Work and Thinking for a Living.
"In this innovative and useful book Kate Pugh shows how you can be a far better knowledge practitioner just by releasing the power of talking in your organization. A fine example of the new generation of knowledge books."
—Larry Prusak, author, Working Knowledge; visiting scholar, Marshall School of Business, University of Southern California; and senior knowledge advisor to World Bank and NASA
"[This book] meets an urgent need within leadership practices: an effective conversational process for capturing and transferring deep smarts."
—Stephen Denning, author, The Leader's Guide to Radical Management and The Secret Language of Leadership
"Leaders have long known that the 'know-how' of experienced teams is key to their orga­nizations' ability to achieve strategic goals. The challenge has always been to distill this wisdom and deploy it in a way that maximizes and accelerates its impact on organizational effectiveness. [This book] provides a practical approach to addressing this challenge, and, in so doing, improves competitiveness."
—Paul Lucidi, chief information officer, Insulet Corporation
"A fantastic replacement for the long dormant and never used lessons-learned repository! This book provides well documented and effective tools for really learning from your orga­nization. As our business continues to go through transformational change, I hope to make good use of the Knowledge Jam to make that transformation efficient."
—Sheryl Skifstad, senior director, Supply Chain IT at a Fortune 100 company
Table of contents
Foreword by Nancy M. Dixon.
Introduction.
Chapter 1: Knowledge Jam Rationale: Solving Thorny Problems.
What's Not Working?
Blind Spots.
Mismatches.
Knowledge Jails.
Sidebar: Contrasting the Effects of Non-Participative Versus Collective Capture.
Chapter 2: Knowledge Jam Basics.
Step 1: Select.
Step 2: Plan.
Step 3: Discover/Capture.
Step 4: Broker.
Step 5: Reuse.
Chapter 3: Discipline 1: Facilitation.
The Facilitator's Mandate.
1. Facilitating the Select Step.
2. Facilitating the Plan Step.
3. Facilitating the Discover/Capture Step.
4. Facilitating the Broker Step.
5. Facilitating the Reuse Step.
Chapter 4: Discipline 2: Conversation.
Posture of Openness.
Pursuit of Diversity.
Practices of Dialogue.
Chapter 5: Discipline 3: Translation.
Brokers' Motivators.
Brokering Basics.
Chapter 6: Bespeckled, Married, and Emancipated.
Boundary-Spanning.
Surfacing Usable Insight.
Putting Knowledge to Work.
Chapter 7: Knowledge Jam Heritage: Prequel to the Three Disciplines.
Intelligence Acquisition.
Organizational Learning.
Sidebar: Structural Dynamics: Strategically Simulating Diversity.
Collaboration Technology.
Chapter 8: Comparing Knowledge Jam to Other Knowledge-Capture Methods.
A Facilitation-Conversation-Translation Scale.
Chapter 9: Building a Knowledge Jam Practice.
Building a Business Case and Selling Knowledge Jam.
Sidebar: The Price Is Right!
Cultivating Knowledge Jam Facilitators.
Measuring and Promoting Success.
Chapter 10: Knowledge Jam for Leading Change and Leveraging Social Media.
Using Knowledge Jam for Leading Change.
Sidebar: Jamming in the Boardroom—Shared Insight in Action.
Knowledge Jam for Business Transformation and Social Media.
Chapter 11: An Invitation.
Why Knowledge Jam (and other forms of Knowledge Elicitation) will take off.
You Have Your Toolkit.
More Than a Business Tool.
Appendices.
A: Knowledge Types.
B: Knowledge Jam Templates.
C: Glossary of Terms.
D: Case Studies.
Institute for Healthcare Improvement (Healthcare Quality Improvement Nonprofit).
Forest Bioproducts Research Institute (New Energy Institute).
E: Knowledge Jam Practice FAQs.
Notes.
Acknowledgments.
The Author.
Index.