Sharing Ownership: The Manager's Guide to ESOPs and Other Productivity Incentive Plans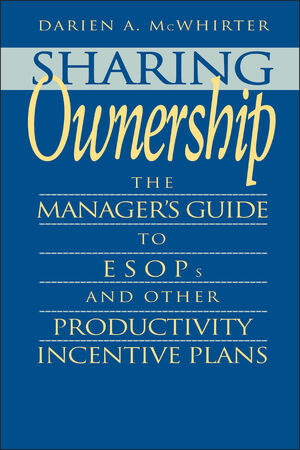 Sharing Ownership: The Manager's Guide to ESOPs and Other Productivity Incentive Plans
ISBN: 978-0-471-57733-1 August 1993 288 Pages
Description
A practical, how-to guide regarding legal issues and business benefits of ownership incentive plans, especially ESOPs. Describes how they can be used to expand or sell a company, increase productivity, takeover a firm, defend against a takeover and restructure employee benefits. Experts in a variety of fields contribute short summaries which deal with particular questions of interest.
Table of contents
THE BASICS.

The Tax Man Cometh.

Creating Artificial People.

Stocks, Bonds, and Options.

What Is It Worth?.

Pensions and Employee Benefit Plans.

Why Ownership?.

FORMS OF OWNERSHIP.

Stock Options.

Stock.

Trusts.

Cooperatives.

EMPLOYEE STOCK OWNERSHIP PLANS.

Creating an ESOP.

Using an ESOP to Grow a Company.

Other Uses for ESOPs.

The Problem with ESOPs.

The Future of Ownership Sharing.

Index.