Short-Sale Pre-Foreclosure Investing: How to Buy ""No-Equity"" Properties Directly from the Bank -- at Huge Discounts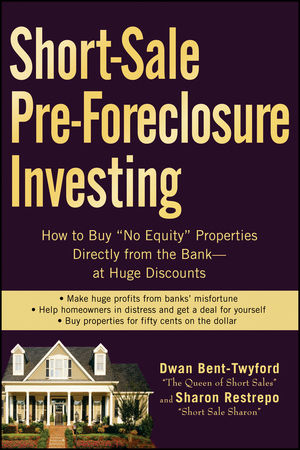 Short-Sale Pre-Foreclosure Investing: How to Buy ""No-Equity"" Properties Directly from the Bank -- at Huge Discounts
ISBN: 978-1-118-04550-3 January 2011 240 Pages
Download Product Flyer
Download Product Flyer
Download Product Flyer is to download PDF in new tab. This is a dummy description. Download Product Flyer is to download PDF in new tab. This is a dummy description. Download Product Flyer is to download PDF in new tab. This is a dummy description. Download Product Flyer is to download PDF in new tab. This is a dummy description.
Description
Learn all about short-sales, the hottest topic in today's real estate investing market, with Short-Sale Pre-Foreclosure Investing: How to Buy "No-Equity" Properties Directly from the Bank -- at Huge Discounts. Understand how to buy properties at big discounts, creating windfall profits. Using this guide, you can access information about a topic that 90% of real estate agents and investors know nothing about. Discover how to make huge profits from the banks' misfortune, how to help homeowners in foreclosure while helping yourself, and how to stay on the cutting edge of the down market.
Table of contents
Downloadable Forms.
Acknowledgments.
Introduction.
Chapter 1. Get Motivated, Set Goals, Get Started.
A Short-Sale Case Study—with a $200,000 Profit.
Getting Motivated.
Setting Goals.
Accomplishing Your Goals.
This Is A Business, Not A Hobby.
Dealing With Naysayers.
Personal Appearance.
Setting Up Your Office.
Structuring Your Business.
Ready To Do Business.
Chapter 2. What Is A Short- Sale? An Executive Summary of How to Negotiate With the Bank and the Homeowner.
Why Do I Need To Short-Sale?
Why Do Banks Short-Sale?
How Much Do You Offer The Bank?
Successful Short-Sales Start With The Homeowner.
Financial Agreement with The Homeowners.
How Much Should You Pay the Homeowner to Move?
Setting The Move-Out Date.
Chapter 3. Expert Strategies for Finding Distressed Properties and Foreclosures.
Buying Bank-Owned Properties For Pennies on the Dollar.
Newspaper Ads.
"I Buy Houses For Cash" Street Signs.
Networking.
Postcards.
Magnetic Vehicle Signs.
Bail Bondsmen.
Pawnshops.
More Deal-Finding Favorites.
Chapter 4. How to Approach the Homeowners and Create a Win-Win Solution.
Understanding Why Homeowners Want to Work With You.
Building Courage to Knock On Doors.
Friendly Negotiations with the Homeowners—What To Say And What You Need From Them.
Establishing Rapport over the Phone.
Knock on Doors Like a Pro.
Helping The Homeowners Understand Their Options.
Deed in Lieu of Foreclosure.
Chapter 13 Bankruptcy.
Final Thoughts.
Chapter 5. Preparing Your First Offer
Authorization To Release Information.
Going To Contract.
Hardship Letter.
Pictures.
Investor Cover Letter.
Comps That Justify Your Offer.
Net Sheet.
Estimated List And Cost of Repairs.
Chapter 6. How To Approach The Bank.
How To Get The Bank Interested in Talking to You.
What the Bank Wants From an Investor.
How to Get Through to a Stonewalling Lender.
Presenting Your Short-Sale Offer to the Bank.
The Asset Manager's Role.
Working with the Portfolio Representative Directly.
Getting Your Short-Sale Assigned to a Loss Mitigation Rep.
Additional Information the Bank May Require.
My Offer Is Submitted—Now What?
Chapter 7. Negotiating with A Second Or Third Mortgage Holder.
Your Conversation with the Second Lender.
Variations on a Theme.
Chapter 8. Key Elements of The Legal Process You Must Understand.
Understanding Ownership versus Debt.
Foreclosure Process.
Types of Liens.
Types of Mortgages and Loans.
Chapter 9. When the Bank Says Yes.
How Do I Buy More Time?
How Does The Homeowner Buy More Time?
Chapter 10. Three Profit-Making Exit Strategies: Wholesaling, Rehabbing, and Renting.
The Wholesale Path.
The Rehab Path.
Selling The Home.
The Rental Path.
Chapter 11. Setting the Closing Date and Making Sure the Closing Goes Smoothly.
A Successful Closing.
What If My Homeowners Change Their Minds?
What If My Buyers Change Their Minds?
Closing with The Assignment of Contract.
Double or Simultaneous Closings.
Are Double Closings Illegal?
Chapter 12. First-Year Expectations.
How You Can Become Rich without Going To College.
What We Did to Get Here.
What You Can Expect In Your First Year.
Thinking Like a Millionaire.
Index.
Downloads
| | |
| --- | --- |
| Sample Bill Of Sale | Download |
| Sample Letter of Intent | Download |
| Sample Acquisition Phone Log | Download |
| Sample Release Authorization Form | Download |
| Sample Contract Information | Download |
| Sample Contract for Sale and Purchase | Download |
| Sample Homeowner Hardship Letter | Download |
| Sample Cover Letter | Download |
| Sample Net Sheet | Download |
| Sample Repairs List | Download |
| Sample Property Information Sheet | Download |
| Sample Letter to Junior Lienholder #1 | Download |
| Sample Letter to Junior Lienholder #2 | Download |
| Sample Letter to Junior Lienholder #3 | Download |
| Sample Hardship Letter from Distressed Homeowner | Download |
| Sample Agreement for Assignement of Contract | Download |