Should We Stay Together?: A Scientifically Proven Method for Evaluating Your Relationship and Improving its Chances for Long-Term Success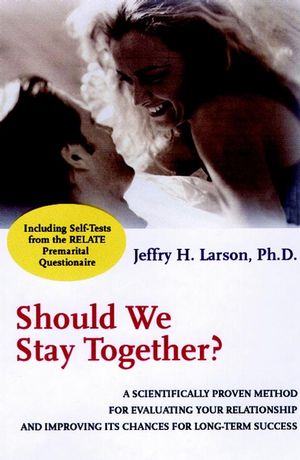 Should We Stay Together?: A Scientifically Proven Method for Evaluating Your Relationship and Improving its Chances for Long-Term Success
ISBN: 978-0-787-95144-3
Apr 2000, Jossey-Bass
208 pages
Description
The fact is, some couples need more time to mature, some need to work through specific issues, and some should never be together. But how do you know? What factors add up to success-or failure-in a relationship? Author Jeffry Larson knows; in fact, he knows a lot about what predicts a happy marriage. Based on Larson's twenty-plus years of research and experience in marriage and family therapy, Should We Stay Together?debunks many time-honored myths as it provides couples with the tools they need to make better decisions and thoroughly explore every aspect of their relationship. From individual characteristics, idiosyncratic family histories, unresolved conflicts and needs, and combined strengths and weaknesses, this step-by-step scientific method for relationship evaluation-based on the highly accurate RELATE premarital assessment questionnaire-will help couples understand the specific traits that predict a satisfying-or disastrous-relationship.
Foreward by Robert F. Stahmann, Ph.D.

Acknowledgements.

Introduction.

1. Myths About Preparing for Marriage.

2. The Marriage Triangle: Three Factors That Predict Your Future Marital Satisfaction.

3. The Marriage Triangle, Factor 1: Your Individual and Relationship Contexts.

4. The Marriage Triangle, Factor 2: Your Individual Traits.

5. The Marriage Triangle, Factor 3: Your Couple Traits.

6. Your Own Personal Marriage Triangle -
Putting the Three Factors Together.

7. Whom and When Not to Marry!

8. Other Resources for Marriage Preparation.

In Conclusion.

Notes.

The Author.
"Here's your chance to learn more about the potential of your relationship. With this book, you'll learn about the things that put marriages-maybe yours-at risk and more importantly, what areas you need to focus on to build a lasting and happy relationship. With its strong basis in marital research, I highly recommAnd this book for those wanting to make a solid investment in their future together." --Scott Stanley, coauthor, Fighting for Your Marriage

"This book should be made available in every high school, church, and public library." --Diane Solee, director, Coalition for Marriage, Family, and Couples Education

"This book is based on the best of what is known about predicting marital satisfaction. Its style and content are unique and directly applicable to couples." --Bob Stahmann, author, Premarital and Remarital Counseling