Signalling Networks in Cell Shape and Motility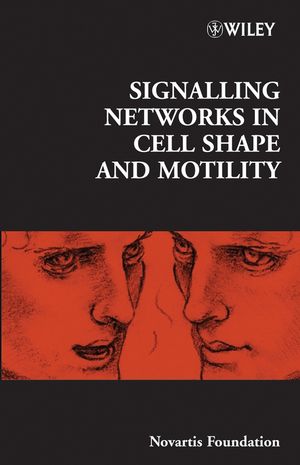 Signalling Networks in Cell Shape and Motility
ISBN: 978-0-470-01765-4 October 2005 250 Pages
Description
This book features contributions from experts in cell biology, genetics, neurobiology, immunology and structural biology.  The unifying element is that they all study processes of cell shape change and motility.  Several key questions in this field of research are discussed:
What are the organising principles behind cell shape change?
Are there 'master switches' present in every cell type?
How are extracellular signals interpreted by the cell in order to activate intracellular mechanisms?
What is the influence of the extracellular matrix on cell movement and internal signalling pathways?
How do pathogens subvert cellular systems in order to stimulate or block their uptake?
The book addresses all of these important questions.  Data are presented on the key proteins that regulate cell shape: the GTP binding proteins of the Rho family. There are also extensive discussions of the potential applications of the data to clinical problems, particularly that of cell motility in cancer.
Table of contents
Novartis Foundation symposium on Signalling networks in cell shape and motility held in collaboration with the Institute of Cell and Molecular Biology, Singapore, in Singapore on August 30th-1st September 2004.
Editors:Gregory Bock (Organizer) and Jamie Goode.
This symposium is based on a proposal made by Uttam Surana.
Gary Borisy Chair's introduction.
Tadaomi Takenawa - From N-WASP to WAVE: key molecules for regulation of cortical actin organization.
Discussion.
Margaret A. Titus   - A conserved role for myosin VII in adhesion.
Discussion.
General discussion I.
David G. Drubin, Marko Kaksonen, Christopher Toret and Yidi Sun - Cytoskeletal networks and pathways involved in endocytosis.
Discussion.
Michele Knaus, Philippe Wiget,Yukiko Shimada and Matthias Peter - Control of cell polarity in response to intra- and extracellular signals in budding yeast.
Discussion.
Fred Chang, Becket Feierbach and Sophie Martin - Regulation of actin assembly by microtubules in fission yeast cell polarity.
Discussion.
Atsuo T. Sasaki and Richard A. Firtel - Finding the way: directional sensing and cell polarization through Ras signaling.
Discussion.
Takashi Watanabe, JuNoritake and Kozo Kaibuchi   - Roles of IQGAP1 in cell polarization and migration.
Discussion.
Gregg G. Gundersen,Ying Wen, Christina H. Eng, Jan Schmoranzer, Noemi Cabrera-Poch, EdwardJ. S.Morris,Michael Chen and Edgar R. Gomes - Regulation of microtubules by Rho GTPases in migrating cells.
Discussion.
Eyal D. Schejter - Actin organization in the early Drosophila embryo.
Discussion.
Yasuyuki Fujita and Vania Braga - Epithelial cell shape and Rho small GTPases.
Discussion.
W. James Nelson, Frauke Drees and Soichiro - Yamada Interaction of cadherin with the actin cytoskeleton.
Discussion.
Martin J.Humphries, Zohreh Mostafavi-Pour, Mark R.Morgan, Nicholas O. Deakin, Anthea J. Messent and Mark D. Bass – Integrin-syndecan co-operation governs the assembly of signalling complexes during cell spreading.
Discussion.
Keith Mostov, Paul Brakeman, Anirban Datta, Ama Gassama, Leonid Katz, Minji Kim, Pascale Leroy, Max Levin, Kathleen Liu, Fernando Martin, Lucy E. O'Brien, Marcel Verges,Tao Su, Kitty Tang, Naoki Tanimizu,Toshiyuki Yamaji and Wei Yu - Formation of multicellular epithelial structures.
Discussion.
Kathryn M. Eisenmann, Jun Peng, Bradley J.Wallar and Arthur S. Alberts - Rho GTPase: formin pairs in cytoskeletal remodeling.
Discussion.
Final discussion.
Index of contributors.
Subject index.
Reviews
"Vital for all oncology researchers and endocrinologists, in addition to cell biologists and instructors within these fields." (
Electric Review
, September/October 2006)
"…contains contributions from a wide range of experts….the discussions are very stimulating and provide insights…" (Doody's Health Services)