Silicon Gold Rush: The Next Generation of High-Tech Stars Rewrites the Rules of Business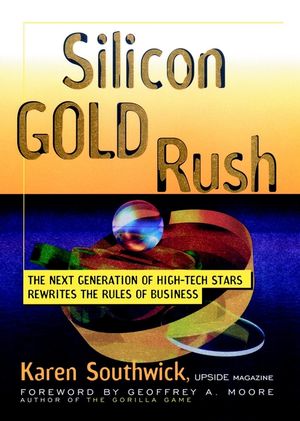 Silicon Gold Rush: The Next Generation of High-Tech Stars Rewrites the Rules of Business
ISBN: 978-0-471-24646-6 February 1999 256 Pages
Download Product Flyer
Download Product Flyer
Download Product Flyer is to download PDF in new tab. This is a dummy description. Download Product Flyer is to download PDF in new tab. This is a dummy description. Download Product Flyer is to download PDF in new tab. This is a dummy description. Download Product Flyer is to download PDF in new tab. This is a dummy description.
Description
A hotbed of activity for far-sighted thinkers and determined doers, the high technology industry has given rise to a pioneering group of entrepreneurs and executives which is not only behind today's most innovative technological advances, but at the forefront of a dynamic new movement in business. Armed with groundbreaking management philosophies and practices, the members of this visionary group are changing the way corporate structures are modeled and altering conventional conceptions of how companies should be run. Having helped their own organizations survive and thrive in a highly competitive, pressure-filled arena, they offer invaluable lessons for executives and managers in all industries. Now, in Silicon Gold Rush, their inspirational stories are told and their strategies for success revealed.

Written by Karen Southwick, editor of Upside Magazine's book division, this enlightening behind-the-scenes account spans the gamut of emerging technology management styles, from proven successes such as Cisco Systems to new kids on the block like Crossworlds Software. Providing valuable insights into a myriad of key issues, from nurturing creativity and motivating employees to finding new markets and weathering tough times, Silicon Gold Rush examines the modi operandi of the technology world's emerging stars and heavyweights.

The book reveals the maverick leadership techniques that are finding their way into mainstream corporate culture with far-reaching consequences. As Southwick points out: "Everywhere you look today, you will see older companies and those in traditional industries adopting the organizational structures, business strategies, and operational methods of the Silicon Valley gang. . . . [These] technology companies are changing more than the markets in which they operate, they are transforming the way America does business." Along with an overview of the high-tech environment, Silicon Gold Rush delivers in-depth coverage of the changing role of the high-tech CEO, the growing importance of the customer in the development and marketing processes of technology companies, the essentials of internal corporate organization, and the increasing frequency of mergers and alliances.

To illustrate the dynamics of the technology industry that make it so exciting and instructive to watch-the scramble for financing, the feverish move of product from design to delivery, the constant risk of failure-it tracks the progress of CrossWorlds Software Inc., a start-up venture headed up by Katrina Garnett, founder and chief executive. Delivering insider analysis of the thinking and motivations that drive today's cyber-Powerhouses, this eye-opening volume presents illuminating interviews with more than twenty trailblazing CEOs and senior executives, including Yahoo!'s Tim Koogle, 3Com's Eric Benhamous, PeopleSoft's Dave Duffield, Cisco's John Chambers, and Novell's Eric Schmidt.

A one-of-a-kind book that delves into the management ideas and strategies of high-tech leaders who are "rewriting the rules of business," Silicon Gold Rush is essential reading for anyone-in any industry-seeking the inside track on contemporary business transformations.
Table of contents
Introduction: The New Gold Rush.

A Star Is Born.

Leading a High-Tech Juggernaut.

The Soul Of a New Company: The Value of Being Small.

Bigger Can Be Better: Maintaining Equilibrium.

Staking Your Claim: Finding and Keeping New Markets.

Mind Share Is a Terrible Thing To Waste.

Dance with Your Customer.

Brainpower, Inc.

Mergers and Alliances: Picking the Right Partner.

The Party's Over.

Conclusion: At The End of the Day.

Appendices.

Index.
Reviews
"Silicon Gold Rush is a handbook for information-age entrepreneurs. If you want to avoid becoming roadkill, read this book."-Eric Nee, Silicon Valley Bureau Manager, Forbes

"A great read! Silicon Gold Rush offers the reader insights on what drives Silicon Valley, the most innovative and aggressive center of new business creation in the world." -Tim Koogle, CEO, Yahoo!

"Silicon Gold Rush is a handbook for information-age entrepreneurs. If you want to avoid becoming roadkill, read this book." -Eric Nee, Silicon Valley, Bureau Manager, Forbes

"A terrific book! Silicon Gold Rush captures the energy and urgency of the high-tech world in this clear look at innovative management styles and challenges." -Dave Duffield, President and CEO, PeopleSoft

"The technology industry has produced the greatest explosion of wealth in history, and triggered enormous changes in the way we live and do business. Silicon Gold Rush gives its readers a penetrating glimpse into the world of the high-tech entrepreneur." -Don Valentine, Founder , Sequoia Capital

"Truly an insider's view to the fast track in Silicon Valley and how fortunes are made and lost, Silicon Gold Rush is a great road map for any budding high-tech entrepreneur." -Katrina Garnett, Founder and CEO, CrossWorlds Software

"Silicon Gold Rush captures the many qualities that are creating the new digital economy." -Ann Winblad, Cofounder, Hummer Winblad Venture Partners

"Silicon Gold Rush gives us insight into the inner workings of the people and companies that have provided the largest legal creation of wealth in history." -David M. Beirne, General Partner, Benchmark Capital

"Cisco, Yahoo! PeopleSoft, and Siebel Systems have all emerged from nowhere. Silicon Gold Rush explains how Silicon Valley continues to turn yesterday's unknowns into tomorrow's notable companies." -Michael Moritz, Partner, Sequoia Capital

"Fast-paced and right on target for those who want to know how Silicon Valley really works." -Michael Rothschild, Founder, Bionomics

"Silicon Gold Rush is a must-read for anybody who wants to understand how companies do business in the fastest-moving market in the world." -Geoffrey James, author, Success Secrets from Silicon Valley