Silicon in Organic, Organometallic, and Polymer Chemistry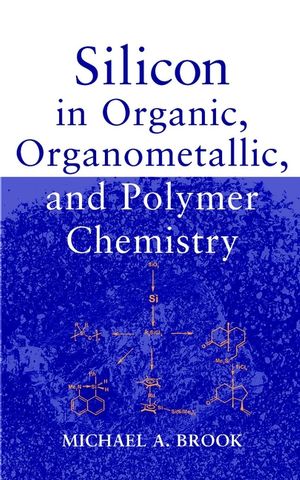 Silicon in Organic, Organometallic, and Polymer Chemistry
ISBN: 978-0-471-19658-7
Dec 1999
704 pages
Description
A comprehensive, up-to-date reference to synthetic applications of organosilicon chemistry Organic, organometallic, and polymer chemistry as well as materials science all utilize silicon in various forms, yet there is little cross-fertilization of ideas and applications among the disciplines. This book presents a much-needed overview of silicon chemistry, allowing fundamental and applied scientists to take full advantage of progress made within and outside their primary fields of expertise. With an emphasis on the preparation and reactivity of silicon compounds in organic, organometallic, and polymer chemistry, the author examines a broad range of useful topics-from mechanisms to syntheses of and syntheses using different organofunctional silanes. Numerous schemes as well as up-to-date examples from academia and industry will help readers to solve current synthetic problems and explore ideas for future research. Clear, concise coverage includes:
* The mechanistic basis for the development of new silicon-based reactions
* Formation and cleavage of silane reagents and functional siliconheteroatom compounds
* Silicones, silica, polysilanes, and other silicon-containing polymers
* Properties of molecules containing silicon, including bioactivity
* Methods for the preparation of Si-C compounds
* Silicon in organic synthesis
* An extensive functional group index for easy access to functional group transformations
Buy Both and Save 25%!
Original Price:$2,447.00
Purchased together:$1,835.25
save $611.75
Cannot be combined with any other offers.
FUNDAMENTALS OF SILICON REACTIVITY: REACTIVE INTERMEDIATES AND REACTION MECHANISMS.

Organosilanes: Where to Find Them, What to Call Them, How to Detect Them.

Atomic and Molecular Properties of Silicon.

Silicon-Based Reactive Intermediates.

Extracoordination at Silicon.

Reaction Mechanisms for Nucleophilic Substitution at Silicon.

THE FORMATION AND CLEAVAGE OF NON-CARBON BONDS TO SILICON: APPLICATIONS IN ORGANIC AND POLYMER CHEMISTRY.

Silicon and Transition Metal Chemistry.

Hydrosilanes as Reducing Agents.

Replacing H with Si: Silicon-Based Reagents.

Silicones.

Siloxanes Based on T and Q Units.

Other Silicon-Containing Polymers.

THE FORMATION AND CLEAVAGE OF SILICON-CARBON BONDS: APPLICATIONS IN ORGANIC SYNTHESIS.

Formation of Si-C Bonds: The Synthesis of Functional Organosilanes.

Silicon in a Biological Environment.

Silicon in the Organic World: Electronic Effects of Silyl Groups.

Rearrangements.

Cleavage of Si-C Bonds.

Indices of Functional Group Transformations.

Subject Index.
"...this book provides a good 'state-of-the-art' compilations and evaluation at the turn of the century. This work should be included in any chemistry reference collection." (Choice, Vol. 38, No. 8, April 2001)

"This book was a pleasure to read. It is very well written in a relaxed chatty style that conveys the obvious deep interest and delight the author brings to the subject...the book can quite rightly claim to be the 'Eaborn' of the 2000s." (Journal of the American Chemical Society, Vol. 123, No. 5, November 2000)

In recent years there have been several books published that describe the various topical uses of silicon in organic synthesis. All of these books have been useful, but they did not present the broader picture of how the chemistry of the element silicon has had a major impact on many technologies. The author refers to some earlier "classical" books on silicon chemistry, particularly Eaborn's text of the 1960s, that set a very high and comprehensive standard by which to be judged. Without a doubt, Michael Brook has met this standard. This book was a pleasure to read. It is very well written in a relaxed and chatty style that conveys the obvious deep interest and delight the author brings to the subject. There are an impressive number of references to substantiate this scholarly text. One minor point that might (subjectively) make the book even better would be to place Chapter 14 (Electronic Effects of Silyl Group) earlier since it so germane to all of the book. The price is high, but not unreasonably so, and the book can quite rightly claim to be the "Eaborn" of the 2000s. (Phillip Magnus, University of Texas at Austin)

"...Brook discusses selected topics regarding synthesis he considers of most use to graduate students and practicing chemists." (SciTech Book News, Vol. 24, No. 4, December 2000)

"...this is a completely successful book..." (Angewandte Chemie - International Edition, 3rd November 2000)