SilverFast: The Official Guide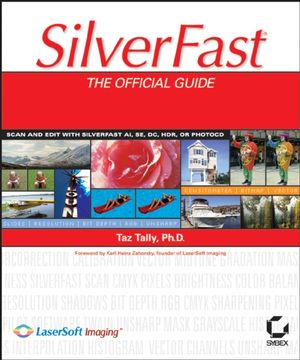 Description
Your Key to Better Scans, Beautiful Images, and Improved Efficiency
Whether you're new to scanning or a seasoned pro, SilverFast: The Official Guide gives you the practical knowledge you need to achieve the best possible scans and images using any of the SilverFast products: SilverFast Ai, SE, DC, HDR, or PhotoCD. You get a thorough introduction to scanning basics, in-depth instruction in correction techniques, and tips for using SilverFast's advanced features. Written by a widely acclaimed graphics expert, with the full support of Lasersoft Imaging, this is the authoritative SilverFast resource.
Coverage includes:
Understanding resolution
Understanding color modes, spaces, and theory
Understanding scanner operation
Setting up scanner defaults and workspace
Calibrating your scanner
Making a quick scan
Setting advanced options
Identifying problems using the densitometer and histogram
Correcting images selectively using masks
Removing color casts
Sharpening and descreening images
Scanning line art, slides, and negatives
Using color management profiles
Adjusting existing images in SilverFast HDR, SilverFast DC, and SilverFast PhotoCD
Using batch scanning and Job Manager
Note: CD-ROM/DVD and other supplementary materials are not included as part of eBook file.
Foreword.
Introduction.
Chapter 1: The Basics of a Scanned Image.
Chapter 2: Behind the Magic: How Scanners Work.
Chapter 3: Up and Running with SilverFast: Quick Start.
Chapter 4: Automatic Scanning: Working with the Prescan Image.
Chapter 5: Manual Scanning: Working with the Prescan Image.
Chapter 6: Fine-Tuning the Color in Your Scans.
Chapter 7: Getting Control with the Expert Dialog.
Chapter 8: Sharpen, Smooth, and Remove.
Chapter 9: Seeing the World in Black and White.
Chapter 10: Power User Tips.
Chapter 11: Getting a Grip on Color Management and Output.
Chapter 12: Using SilverFast HDR, DC, and PhotoCD.
Bonus 1: Making Slides Come Alive.
Bonus 2: Positive Experiences from Your Negatives.
Appendix A: Manual Calibration.
Appendix B: Keyboard Shortcuts.
Index.
Chapter
Page
Details
Date
Print Run
Combined Errata


Page 8

1/3 down: "And if you start with only bits of information..." should be "And if you start with only 8 bits of information..."

line 3: Basically, remove all the underscores. Second sentence of first paragraph should be "Look for JazBW200.tif, JazGS200.tif, JazRGB200.tif, and JazCMYK200.tif."

Page 10

line 3: 1/300' and 1/2400' should be 1/300" and 1/2400".(change foot mark to inch mark)

Page 11

2/3 way down: 300 lpi x 2 = 300 ppi should read 150 lpi x 2 = 300 ppi.

last paragraph: "30,000 pixels wide and 24,000 pixels high" should read "3,000 pixels wide and 2,400 pixels high"

Page 18

second paragraph, remove the underscores from the filename and change the file extension: "I've provided an Indexed Color version (JazIndex200.gif) of the Jaz images"...




---