Simone de Beauvoir: A Critical Introduction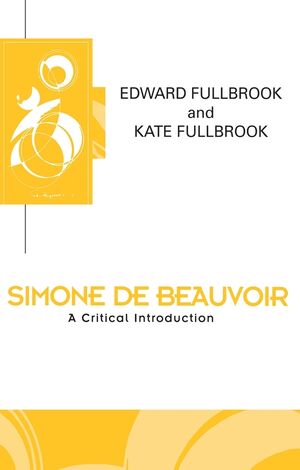 Simone de Beauvoir: A Critical Introduction
ISBN: 978-0-745-61203-4 February 1998 Polity 192 Pages
Download Product Flyer
Download Product Flyer
Download Product Flyer is to download PDF in new tab. This is a dummy description. Download Product Flyer is to download PDF in new tab. This is a dummy description. Download Product Flyer is to download PDF in new tab. This is a dummy description. Download Product Flyer is to download PDF in new tab. This is a dummy description.
Description
This book provides the first comprehensive introduction to Simone de Beauvoir's philosophical thought. Beauvoir has long been recognized as the twentieth century's leading feminist writer, but the full extent of her significance as a philosopher is just coming into focus. This study examines the history of Beauvoir's development into one of the most original and influential thinkers of her era.
The Fullbrooks begin with an account of Beauvoir's formation as a philosopher. They then explore her early writing on philosophical method and the ways this shaped her fiction. The book traces the development of Beauvoir's central theories of embodied consciousness and intersubjectivity, and examines her concepts of the "individual" and the "social other". An analysis of Beauvoir's ethics of liberation leads to philosophical readings of her great works of applied ethics, The Second Sex and Old Age. Finally, Beauvoir's contribution to continuing debates about consciousness, the body, the self and the other is reassessed.
The publication of this introduction to Beauvoir's philosophy is an important contribution to the current renaissance of Beauvoir studies. Clear, accessible and lively, this book is essential reading not only for students of Beauvoir but for anyone interested in the submerged record of women's impact on philosophy.
Table of contents
Introduction.
1. The Education of a Philosopher.
2. Writing for her Life.
3. Literature and Philosophy.
4. Narrative Selves.
5. Embodiment and Intersubjectivity.
6. The Ethics of Liberation.
7. Applied Ethics I: The Second Sex.
8. Applied Ethics II: Les Belles Images, The Woman Destroyed, and Old Age.
Notes.
Glossary.
The Works of Simone de Beauvoir.
Index.
Reviews
"This book is a clearly-written and tightly-organized addition to the growing scholarly interest in Simone de Beauvoir's philosophy. Kate and Edward Fullbrook provide an overview of Beauvoir's philosophical sources and an outline of her original starting point in ethics. Highlighting Beauvoir's emphasis on embodiment and intersubjectivity, they argue strongly for Beauvoir's place in current, popular ethical discussions."
Eleanore Holveck, Duquesne University, Pittsburgh

"This is certainly a book that needed to be written and the authors make an excellent job of it. The book can be highly recommended." Dr Elizabeth Fallaize, St. John's College, Oxford

"A good working introduction to de Beauvoir's thought." Times Literary Supplement

"A concise and unified picture of Beauvoir as philosopher." Women's Philosophy Review
Features
* This is a very accessible introduction to one of the key figures in contemporary feminist thought.
* The approach to Simone de Beauvoir is distinctive because it examines her work as a philosopher - this book is the first full-length assessment of Simone de Beauvoir's philosophy.
* Covers the whole area of her career - her fiction as well as her philosophical work - and explores the influence on her work as well as the legacy of her writing.