Simple Solutions: Harness the Power of Passion and Simplicity to Get Results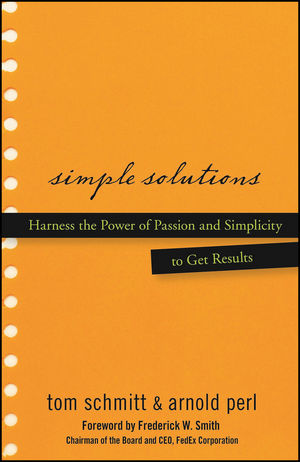 Simple Solutions: Harness the Power of Passion and Simplicity to Get Results
ISBN: 978-0-470-04818-4 December 2006 220 Pages
Description
Combining the rational, logical instincts of the left brain with the passionate and artful skills of the right brain, this book offers a leadership approach that is both highly effective and deeply inspirational. Perfect for anyone assuming a leadership position, it presents simple solutions on such topics as effective collaboration, achieving goals, leadership styles, team-building, inspiring people to success, and more.
Cannot be combined with any other offers.
Original Price:$69.95
Purchased together:$52.46
save $17.49
Table of contents
Foreword (
Frederick W. Smith
).
About the Authors.
Introduction.
Chapter 1 Simplicity: The Foundation of Leadership.
Chapter 2 Management Savvy: Work Smarter, Not Harder.
Chapter 3 Ambition: Be Ambitious for Your People and the Cause.
Chapter 4 People Skills: Making People the Top Priority.
Chapter 5 Leadership: Leave a Place Better than You Found It.
Chapter 6 Collaboration: Think "One Big Team".
Chapter 7 Vision: Imagine the Possibilities.
Chapter 8 Time Management: Align Your Time with the Right Goals.
Chapter 9 Focus: Use a Laser, Not a Floodlight.
Chapter 10 Execution: Do It! Don't Sacrifice Good for Better.
Chapter 11 Determination: Stick to It.
Chapter 12 Keep It Simple!
Index.
Reviews
FedEx executive Tom Schmitt and management attorney Arnold Perl demonstrate how to break down complex problems into simple parts and solve them. They emphasize using the right tools in conjunction with providing forthright, enthusiastic leadership. The of leadership advocated by Schmitt and Perl combines old-school proven strategies and tactics with innovative new leadership metrics geared to today's business environment. Their brand of leadership is a blend of practicality and inspiration. Schmitt and Perl reinforce their advice with real case studies in effective leadership. (
Fort Worth Star-Telegram
(Texas) on January 8, 2007)
With the conciseness of thought you expect from busy people, FedEx Corp. exec Tom Schmitt and longtime Memphis labor attorney Arnold Perl have distilled years of managing people and projects into a book the diligent can digest in a night.
"Simple Solutions: Harness the Power of Passion and Simplicity to Get Results" is the only book in the world with a forward written by Frederick W. Smith.
And if the history of books endorsed by business management guru Tom Peters means anything, it's got a good chance of being a best seller.... The thesis, underlined in short chapters and bolstered with breakouts, is that the gentle melding of left- and right-brain tendencies, coupled with transparency, optimism and goal-oriented thinking, transforms people and situations.
Though their experiences were honed in different arenas, Perl and Schmitt suggest that any problem can be broken into small components and worked out, from ferrying kids in rush-hour traffic to planning a land swap at Memphis International Airport that allows both the Tennessee Air National Guard and FedEx to expand.-- The Commercial Appeal (Memphis), Distributed by McClatchy-Tribune Business News, January 10, 2007 Wednesday)