Simple Tools and Techniques for Enterprise Risk Management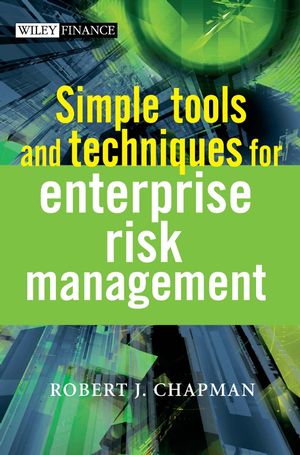 Simple Tools and Techniques for Enterprise Risk Management
ISBN: 978-1-119-99553-1
Mar 2011
494 pages
Description
Enterprise Risk Management (ERM) represents a fundamental shift in the way businesses must approach risk. As the economy becomes more service driven and globally oriented, businesses cannot afford to let new, unforeseen areas of risk remain unidentified. Currency fluctuations, human resources in foreign countries, evaporating distribution channels, corporate governance, and unprecedented dependence on technology are just a few of the new risks businesses must assess.

This accessible book, aimed at the implementers and practitioners of ERM, provides a highly structured approach so you can easily implement processes in your own organization. You'll find a number of case studies and practical examples from a variety of industries. The chapters are organized in a way that leads you through ERM implementation and include risk identification techniques, risk modelling methods, and the underlying statistics. Order your copy today!
List of figures.
Preface.
Acknowledgements.
About the author.
PART I: ENTERPRISE RISK MANAGEMENT IN CONTEXT.
1 Introduction.
2 Developments in Corporate Governance in the UK.
3 Developments in Corporate Governance in the US and Canada.
4 Internal Control and Risk Management.
5 Developments in Risk Management in the Public Sector.
PART II: THE APPOINTMENT.
6 Introduction.
7 Interview with the Client.
8 Proposal.
9 Implementation.
PART III: THE RISK MANAGEMENT PROCESS.
10 Analysing the Business: Stage 1.
11 Risk Identification: Stage 2.
12 Risk Assessment: Stage 3.
13 Risk Evaluation: Stage 4.
14 Risk Planning: Stage 5.
15 Risk Management: Stage 6.
PART IV: INTERNAL INFLUENCES – MICRO FACTORS.
16 Financial Risk Management.
17 Operational Risk Management.
18 Technological Risk.
PART V: EXTERNAL INFLUENCES – MACRO FACTORS.
19 Economic Risk.
20 Environmental Risk.
21 Legal Risk.
22 Political Risk.
23 Market Risk.
24 Social Risk.
Appendix 1: Successful IT: Modernising Government in Action.
Appendix 2: Sources of Risk.
Appendix 3: DEFRA Risk Management Strategy.
Appendix 4: Risk: Improving Government's Capability to Handle Risk and Uncertainty.
Appendix 5: Financial Ratios.
Appendix 6: Risk Maturity Models.
Appendix 7: SWOT Analysis.
Appendix 8: PEST Analysis.
Appendix 9: VRIO Analysis.
Appendix 10: Value Chain Analysis.
Appendix 11: Resource Audit.
Appendix 12: Change Management.
Appendix 13: Industry Breakpoints.
Appendix 14: Probability.
Index.
"...provides a thorough introduction to the subject...and places the evolving methodology in context." (Professional Manager, December 2006)