Simplified Site Engineering, 2nd Edition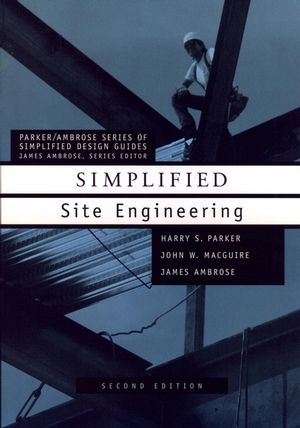 Simplified Site Engineering, 2nd Edition
ISBN: 978-0-471-17987-0 February 1997 192 Pages
Description
A concise, highly accessible source for site engineeringbasics.

This updated edition of Parker's classic text introduces the basicissues, tasks, and problems of site engineering to students andprofessionals who need to understand the significance of surveyingdata. It presents the fundamentals of site engineering --surveyingand mapping, drainage, slope stabilization, and basic structures--and explains in detail the solutions to a wide variety ofproblems, including:
* Interpretation of deed descriptions
* Dimensioning buildings and sites when angles are other than rightangles
* Computing areas for irregular plots
* Dimensioning and laying out circular curves for driveways andbuildings
* And much more.

Featuring a simplified, accessible style with numerous examples ofproblems and their solutions, as well as references and practicalaids that facilitate home study, this is the ideal surveying andsite-planning primer for students in architecture, landscapearchitecture, and civil and structural engineering. It is also anexcellent handbook for working architects, building contractors,and professionals in related fields.
Table of contents
Mathematics for Site Engineering.

Site Surveys and Maps.

Measuring Distances.

Measuring Angles.

Surveying Methods and Computations.

Circular Horizontal Curves.

Levelling.

Contours.

Vertical Curves.

Computations for Cut and Fill.

Drainage and Grading.

Staking Out Site Work.

Site Structures.

Management of Site Materials.

Landscaping.

References.

Glossary.

Appendix.

Index.