Single Session Therapy: Maximizing the Effect of the First (and Often Only) Therapeutic Encounter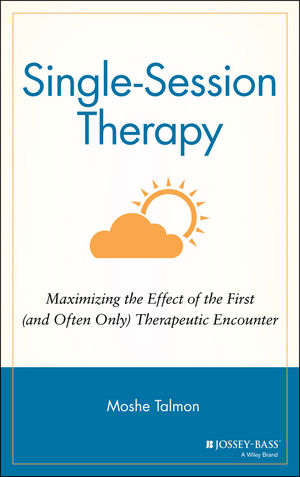 Single Session Therapy: Maximizing the Effect of the First (and Often Only) Therapeutic Encounter
ISBN: 978-1-555-42260-8 August 1990 Jossey-Bass 176 Pages
Description
How to use limited therapeutic time most efficiently

Research shows that many clients seeking therapeutic help attendfor one session only--no matter what their therapist's orientationor approach. Moshe Talmon demonstrates how therapists can turn thissingle encounter into a positive therapeutic experience.

Based on a study of hundreds of single-session cases, this bookoffers a realistic, practical approach to using a single session toprompt substantial changes in patients' lives. The author describeshow to make the most of patients' innate ability to healthemselves--presenting insights into bolstering the patient'sexisting strengths, restoring autonomy and confidence, and offeringsolutions that the patient can implement immediately.
Table of contents
Foreword.

1. When the First Session Is the Only Session.

2. The First Phone Call: Presession Screening andPreparation.

3. Effective Single-Session Therapy: Step-by-Step Guidelines(incollaboration with Michael F. Hoyt and Robert Rosenbaum).

4. Empowering Your Patient.

5. Single-Session Therapy in Action: A Case Example(incollaboration with Michael F. Hoyt).

6. Learning from Failures.

7. Attitudes That Facilitate Single-Session Therapy.

Resources A: Follow-Up Interview.

Resources B: Tips for Managing Time and Money.
Reviews
"Talmon's presentation of single-session therapy is convincing. His style is exceptionally clear and refreshingly free of jargon.... Should be read and pondered by all outpatient therapists, funding agencies, and organizers of psychotherapeutic outpatient services." --from the foreword by Jerome D. Frank, professor emeritus of psychiatry, The Johns Hopkins University School of Medicine