Single Stock Futures: An Investor's Guide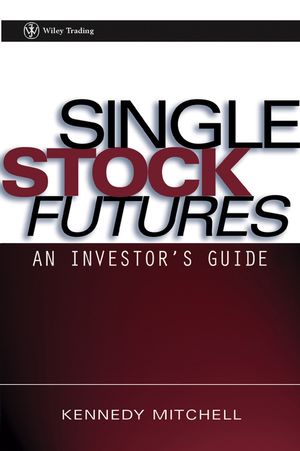 Single Stock Futures: An Investor's Guide
ISBN: 978-0-471-26762-1
Dec 2002
256 pages
Description
Everything you need to know about Single Stock Futures

""Single stock futures are an incredibly important new financial instrument for managing risk. Kennedy Mitchell provides an outstanding and easy-to-read explanation of these new products for either an expert futures user or for someone learning about futures markets for the first time.""
-Peter Borish, Senior Managing Director, OneChicago

Although single stock futures may be a relatively new phenomenon in the United States, this instrument has been successfully traded for years in various overseas markets-leaving you, the individual and professional investor, to play catch-up.

Exactly what are single stock futures? They are futures contracts, within the futures universe, that have shares of listed public companies as their underlying asset.

In Single Stock Futures: An Investor's Guide, author Kennedy Mitchell introduces you to single stock futures, explains how they function, and demonstrates the various ways they can be traded. This comprehensive guide clearly illustrates how investors-both individual and professional-can utilize single stock futures independently or as an application to add new dimensions to an investment portfolio.

Single stock futures have the potential to improve the performance of professionals, novices, investors, and traders. Take this opportunity to find out how with Single Stock Futures: An Investor's Guide.
Acknowledgments.
Introduction.
Chapter 1. An Overview of Single Stock Futures.
Chapter 2. Key Differences Between Equities and Single Stock Futures.
Chapter 3. The Exchanges for Single Stock Futures.
Chapter 4. Speculating with Single Stock Futures.
Chapter 5. Hedging with Single Stock Futures.
Chapter 6. Delivery, Offset, and Rolling Forward.
Chapter 7. Trading Strategies Using Single Stock Futures.
Chapter 8. Arbitrage Principals.
Chapter 9. Margin.
Chapter 10. Security Futures versus Equity Options.
Chapter 11. Analysis of Single Security Futures.
Chapter 12. Proven Trading Strategies.
Chapter 13. Security Futures Proficiency Review Section.
Appendix 1. Basic Futures Principals for the Beginner.
Appendix 2. Narrow-Based Indices.
Appendix 3. Tax Considerations.
Appendix 4. Security Futures Currently Available for Trading.
Appendix 5. Useful Web Site Reference Guide.
Glossary 1. Futures and Options Terminology.
Glossary 2. Securities Market Terminology.
Index .